We are giving away a pair of tickets to Oregon Zoo Summer Concerts Presents Amos Lee – My New Moon Tour 2019 on August 25. To win, comment on this post why you'd like to attend. Winner will be drawn and emailed Monday, August 19.
———————————————
From our sponsors: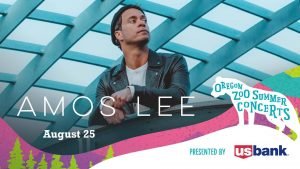 Amos Lee – My New Moon Tour 2019
August 25, 2019
Doors 5 p.m., Show 7 p.m. | All Ages
$42.50 GA, $72.50 Reserved, $102.50 Terrace
More info: zooconcerts.com
Oregon Zoo Summer Concerts
4001 SW Canyon Rd, Portland, OR 97221
(503) 226-1561
Over the course of more than a dozen years and six studio albums, Amos Lee has continued to evolve, develop, and challenge himself as a musician. With SPIRIT, he makes his biggest creative leap yet.
Most notably, for the first time, Lee acted as his own producer. While his last two albums bore the stamp of strong producers—Joey Burns of Calexico on 2011's Mission Bell (which debuted at Number One on the Billboard 200, Amazon, iTunes charts, and spun off a hit single with "Windows are Rolled Down") and Jay Joyce (Little Big Town, Eric Church, Cage the Elephant) on 2013's Mountains of Sorrow, Rivers of Song—Lee finally felt ready to take over the helm.
"I've been wanting to produce my own record for a long time," he says, explaining that he met with numerous candidates before concluding that he should make the move. "What I wanted to provide was a place for musicians to come and feel they were able to express themselves, and contribute in their own voice the way I was able to contribute in mine."
Lee's sense of ambition for SPIRIT largely derived from his own live performing experiences in recent years. "Working with folks like the LA Philharmonic and the Mobile, Alabama Community Gospel Choir opened my mind to the possibility of pushing the edges of arrangement away from solitary moments into more collaborative, community experiences," he says. "These were transformative creative opportunities that I never dreamed I would have. To stand on stage and be equal parts participant and observer during these career defining moments was such a thrill, and I credit the singers, arrangers, and conductors for being so open and generous to the songs."
Along with such monumental events as working with the Colorado Symphony Orchestra (a performance which yielded Lee's most recent release, Live from Red Rocks), being a band leader over the last decade has also helped Lee hone his craft as an arranger. "I have a great, great band—the most gentle, genuine, musically open-minded people," he says. "I push them some, but they always respond with creativity, and they inspire me to open things up musically. The versatility of my live band has been a gradual concept I've been working on since I started playing at the club The Tin Angel in Philly in 2002. Back then, we would play three- or fourhour shows. We had horn sections, violins, extended jams, improvisational songs, and whatever else would come from the ether. This current group of players I have on the road with me has re-inspired me to be more open, and less protective. I think SPIRIT reflects this attitude, and the vibrations are very much reflections of the connections.
"I've always loved such a wide range of music." Lee adds, discussing some new influences, which were pulling him toward a new sonic direction. "I've been listening to a lot of Schoolboy Q, Drake, the earlier stuff by The Weeknd, and I was wanting to open up that box a little more," he says. "I've always loved '90s R&B, and now with streaming services, it's so easy to sample so much new music."