We are giving away a pair of tickets to Feist w/ Special Guest Rhye on August 13. To win, comment on this post why you'd like to attend. Winner will be drawn and emailed Monday, July 29.
———————————————
From our sponsors: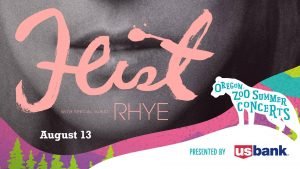 Feist w/ Special Guest Rhye
August 13, 2019
Doors: 5 pm / Show: 6 pm | $35 GA, $65 Reserved, $95 Terrace | All Ages
More info: zooconcerts.com
Oregon Zoo Summer Concerts
4001 SW Canyon Rd, Portland, OR 97221
(503) 226-1561
Feist's first album in six years reflects on secrets and shame, loneliness and tenderness, care and fatigue and is at it's core a study on self-awareness. As the fourth full-length from the Canadian singer/songwriter, Pleasure builds off the warm naturalism of the Polaris Prize-winning Metals and emerges as Feist's most formally defiant and expansive work so far. And while each album marks a departure from the next,Pleasure finds the 4-time grammy nominee again showing the extraordinary depth of her artistry.
With its endless movement from austere stillness to frenzied intensity, Pleasure is both painfully intimate and impossibly vast, fine-spun and anarchic, spellbinding and shattering. Recorded over the course of 3 months—Pleasure was co-produced by Feist with longtime collaborators Renaud Letang and Mocky. In addition to reaffirming Feist as a cagily inventive guitar player, the album threads her shapeshifting and often haunting vocals into sparse and raw arrangements.
From its very first seconds, Pleasure proves resistant to any imposed expectation. Though it begins with a hush of stark guitar and understated vocals, the album-opening title track soon unfolds to encompass a plethora of moods, textures, and tempos–its shifts in tone both startling and hypnotic. Those tonal schisms endure throughout Pleasure, with Feist continually building moments of pain and wonder so extreme that the contrast feels thrilling and brutal. The result is an album that isn't about its title so much as the dialectic between opposing forces of positivity and negativity and how those forces connect people.
With the guitar-driven rhythm and furious handclaps of "Pleasure" serving as the song's sole percussion, the album remains mostly drumless for the next several tracks. For "I Wish I Didn't Miss You," Feist matches her lilting folk with a delicate but fierce meditation on longing ("I felt some certainty that you must have died/Because how could I live if you're still alive?"). That longing gives way to a stunned melancholy on the sleepy and shimmering "Lost Dreams," until a single whispered lyric ("Every night you go to sleep, a chance to have another dream") allows a flash of hope on the fadeout. But for Pleasure's majestic centerpiece "Any Party," Feist matches her meticulously detailed storytelling with a glorious, grandiose arrangement of heavy guitar and hard-hitting drums. With its swaying rhythm and campfire harmonies, the unflinchingly romantic track turns what first feels like a throwaway confession ("You know I'd leave any party for you") into a powerfully exultant declaration of love.
Rhye
A mosaic of emotive piano keys, physical percussion, buzzing analog synths, and expansive vocals, RHYE find humanity in musicality. Shrouded in mystery, the group first surfaced setting the Internet abuzz with ambiguous imagery, sophisticatedly sensual music videos, and that distinctive falsetto. Following the runaway online success of two initial singles, the critically acclaimed debut album Woman (Loma Vista Recordings) was released in 2013 and lauded by critics from Pitchfork ("Best New Album") to The Guardian to New York Times.
Gifted songwriting, breathtaking vocals and deft instrumental arrangements combine to create an intoxicating blend of R&B influenced, deeply emotive music making the album a staple for provoking intimate moments.
Since the release of Woman, RHYE has relentlessly toured to establish a devoted global fanbase and enrapture crowds in theaters and at festivals worldwide including riveting sets at Coachella and Pitchfork Paris amongst many others.