From our sponsors: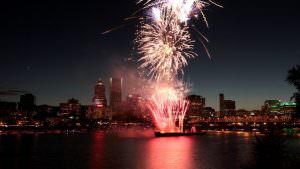 Independence Day Fireworks Cruises
July 4, 2019
More info: portlandspirit.com
This Independence Day enjoy a spectacular view of riverside fireworks aboard the Columbia Gorge Sternwheeler in Cascade Locks with viewing of the Port of Cascade Locks majestic fireworks display.

Portland Fireworks Dinner Cruises
This Independence Day, join us for a relaxing dinner cruise followed by the annual downtown Portland fireworks display viewed from the best possible location: on the river just a couple hundred yards from the fireworks barges.
The price starts from $104 per passenger, which includes dinner, entertainment, coffee, tea, and service gratuity.
Portland Spirit: Boarding at 7pm at Salmon Street Springs in Portland,
Cruising 7:30pm-10pm aboard the Portland Spirit,
returning and remaining dockside until 10:30pm for fireworks viewing
Columbia Gorge Sternwheeler Fireworks Viewing Cruise
The Columbia Gorge Sternwheeler is the best place to see the Fireworks show in the Gorge off Thunder Island in the Port of Cascade Locks. The ticket price is from $50 per person covers the cost of the two-hour cruise. Snacks and beverages are available for additional purchase.
Columbia Gorge Sternwheeler: Boarding 8:30pm at the Visitors Center in Marine Park in the Port of Cascade Locks
Cruising 9pm-11pm aboard the Columbia Gorge Sternwheelerz