From our sponsors: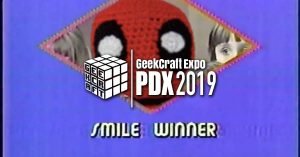 Geekcraft Expo
June 22-23, 2019
Free | All Ages | 10a-5p (4p Sunday)
More info: geekcraftexpo.com
Oregon Convention Center
777 NE Martin Luther King Jr Blvd, Portland, Oregon 97232
IT'S LIKE A MALL FOR GEEKS!
If you're looking for "that" special thing–or things–to complement your geeky lifestyle, there is simply no better place to shop; everything for sale at GeekCraft Expo is incredibly unique, limited in quantity (i.e. NOT mass produced—this stuff is all made by hand) and TOTALLY NERDY!
SUPPORT YOUR LOCAL NERDS!
Why give your money to HYDRA…er, the big box stores when you can instead support LOCAL crafters and makers?
FREE & FAMILY FRIENDLY!
GeekCraft Expo provides geeky, super-fun make-n-take crafting activities for kids & families…free of charge! For kids (and adults) who are into superheroes, gaming and/or geeky things in general, GeekCraft Expo is the perfect day out….because superheroes, gaming and/or geeky things in general is what GeekCraft Expo IS, wall to wall! Cosplay is highly encouraged (get one more use out of that Halloween costume!)