From our sponsors: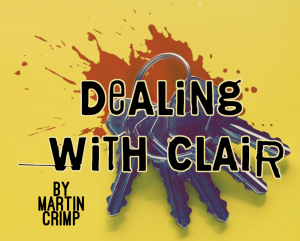 Dealing with Clair
June 13-30, 2019
8 p.m. | Thursdays- Saturdays
2 p.m. Sundays | $15-$25
More info: publiccitizentheatre.org
Bridgetown Conservatory of Musical Theatre
6635 N Baltimore Avenue, Portland
"A skillfully written, well-crafted exposition of the horrors just beneath the civilized surface of our lives; it is at once a delicious satire on yuppie moral and emotional bankruptcy and a bleak, black comedy thriller." – The Independent
In today's cut-throat real estate market, how far would you go to get the best price on your house? In chic suburban London, Mike and Liz enlist the help of real estate agent Clair to sell their home. But when a mysterious cash buyer enters the picture, it becomes clear that something sinister lurks under the surface of this deal. Dealing With Clair is a suspenseful, yet bitingly humorous examination of the human capacity for selfishness and moral detachment.
Don't miss the Portland premiere of Martin Crimp's chilling masterpiece, recently revised for the first time in 30 years!