We are giving away a pair of tickets to Grammy Award Winners Indigo Girls @ Oregon Zoo on June 15. To win, comment on this post why you'd like to attend. Winner will be drawn and emailed Monday, June 10.
———————————————
From our sponsors: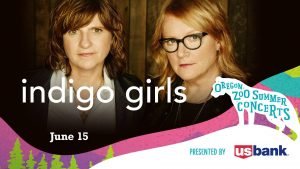 Indigo Girls w/ Sera Cahoone
June 15, 2019
Doors 5 p.m., Show 7 p.m. | $39.50 GA, $69.50 Reserved, $99.50 Terrace
| All Ages
More info: zooconcerts.com
Oregon Zoo Summer Concerts
4001 SW Canyon Rd, Portland, OR 97221
(503) 226-1561
Twenty years after they began releasing records as the Indigo Girls, Amy Ray and Emily Saliers have politely declined the opportunity to slow down with age. With a legacy of releases and countless U.S. and international tours behind them, the Indigo Girls have forged their own way in the music business. Selling over 14 million records, they are still going strong. Amy & Emily are the only duo with top 40 titles on the Billboard 200 in the '80s, '90s, '00s and '10s.
In 2012, Saliers and her Indigo Girls partner Amy Ray embarked on a bold new chapter, collaborating with a pair of orchestrators to prepare larger-than-life arrangements of their songs to perform with symphonies around the country. The duo found an elusive sonic sweet spot with the project, creating a seamless blend of folk, rock, pop, and classical that elevated their songs to new heights without scarifying any of the emotional intimacy and honesty that have defined their music for decades. Now, after more than 50 performances with symphonies across America, the experiences has finally been captured in all its grandeur on the band's stunning new album, 'Indigo Girls Live With The University of Colorado Symphony Orchestra.'
The power of unity, both in music and in life, has been an Indigo Girls calling card ever since they burst into the spotlight with their 1989 self-titled breakout album. Since then, the band has racked up a slew of Gold and Platinum records, taken home a coveted GRAMMY Award, and earned the respect of high profile peers and collaborated from Michael Stipe to Joan Baez. NPR's Mountain Stage called the group "one of the finest folk duos of all time" while Rolling Stone said "they personify what happens when two distinct sensibilities, voices, and worldviews come together to create something transcendentally its own."
The duo has balanced their long, successful musical career by supporting numerous social causes – the Indigo Girls don't just talk the talk; they walk the walk. Both on and off the stage, Emily Saliers and Amy Ray have secured their spot as one of the most legendary musical acts of this generation.
SERA CAHOONE
Across her four critically-acclaimed albums, Seattle artist Sera Cahoone has become known for creating stirring, hushed Americana music that embodies raw emotionalism. Her songs have always been the sort that grab the listener by the collar and pull them close. And yet fans may not even realize they've yet been held at arm's length until they hear the revisited arrangements on her new, forthcoming EP, The Flora String Sessions, due for self-release on April 20, 2018.
The Flora String Sessions revisits some of Cahoone's most beloved fan favorites from across her remarkable career, with just her starkly honest vocals and guitar plus violin, viola, and cello. It's somewhat of a greatest hits collection, albeit with more intimate, stunningly beautiful arrangements by Led to Sea violist Alex Guy.
The trio Guy assembled to support Cahoone on this effort serves to augment the space between notes, drawing the listener into the essence of heart-rending selections like "Couch Song" (from 2006's Sera Cahoone), "Baker Lake" (from 2008's Only as the Day Is Long), and "Worry All Your Life" (from 2012's Deer Creek Canyon).
In fact, the arrangements are so stirring, even Cahoone was delighted and surprised about how her songs came out. "The first time I heard the string trio at rehearsal," she says, "I couldn't believe how beautiful it sounded. I've always played by ear. … It hurts my head trying to imagine how Alex arranged all these parts and put them on paper. It's been a really great experience."
Cahoone has always been a master of intense lyrical intimacy. And while her exquisite live band has provided her previous recordings with lush, intuitive instrumental support, there is something remarkably pure about hearing some of the best songs of her career delivered in this more nuanced manner.
As she has steadily gained a wider audience over the past twelve years, the Denver-native-turned-Seattle-mainstay has toured with Son Volt, Kathleen Edwards, Blitzen Trapper, and Gregory Alan Isakov, to name a few; but it was a duo tour with Guy that set the pair spinning toward this project.