We are giving away a pair of tickets to Where In The Hell Is The Lavender House? The Longmont Potion Castle Story @ Revolution Hall on June 9. To win, comment on this post why you'd like to attend. Winner will be drawn and emailed Friday, June 7.
———————————————
From our sponsors: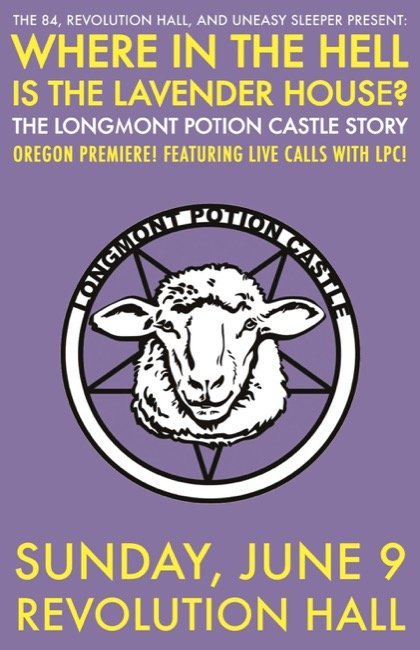 Where In The Hell Is The Lavender House? The Longmont Potion Castle Story
June 9, 2019
Doors 7 p.m., Show 8 p.m. | 18 ADV, $20 Doors | All Ages
More info: revolutionhall.com
Revolution Hall
1300 SE Stark St., Portland, OR
An unpaid camera operator is left to finish the film a bumbling pair of filmmakers attempt to make about the greatest anonymous phone-work artist of all time – Longmont Potion Castle.
Featuring interviews with Rainn Wilson, Andrew Bujalski, Pissed Jeans, Municipal Waste, NBS Electronics, Twist and Shout, Pig Destroyer, Weyes Blood, Cattle Decapitation, Pinback, and a variety of hard-core fans, 'Where In The Hell Is The Lavender House: The Longmont Potion Castle Story,' peeks behind the curtain of America's Underground Prank Call King, and documents a film doomed to fail from the beginning.
DIRECTOR'S STATEMENT
In the spring of 2016 two amateur filmmakers set out to make a film about an anonymous prank caller named "Longmont Potion Castle." For over thirty years Longmont Potion Castle (or LPC, as he is known to his fans) has been beguiling and bedevilling the citizens of Denver, Colorado and beyond with his unique, off-the-wall and surreal brand of phone art insanity.
After a semi-successful crowd-funding campaign, the filmmakers set out to document the life of LPC by interviewing his many fans, explore the city of Denver (integral to LPC calls) and hopefully find the reclusive and elusive anonymous prankster and interview him on camera. But things quickly went south. Lies, deceit and outright fraud derailed the production, and the filmmakers went bankrupt…the LPC doc was dead.
That's where I come in. My name is Thomas D. Rotenberg…indie filmmaker and DOP that was hired to shoot the LPC doc. When the LPC production stopped, I was owed many a paycheck, and so I kept all the footage of the film I'd shot as collateral. Months passed, and it was evident I would never get paid, so I started looking through the footage to see if anything could be salvaged and delivered to the people who had donated to the film.
Pretty soon a story emerged…it might not have been the story the original filmmakers were trying to tell, but it was a story nonetheless: a story of two failed filmmakers trying their best to document an anonymous prankster. And so, this documentary I pieced together is their story, a little bit of my story and ultimately, the story of the man, the myth and the legend…Longmont Potion Castle
director Thomas D Rotenberg
ABOUT LONGMONT POTION CASTLE
The LA Record describes Longmont Potion Castle's albums as unlike those that most people associate with prank telephone calls, citing that his demeanor is nothing at all like that of The Jerky Boys and Crank Yankers and is actually closer to that of the alternative comedian Neil Hamburger.In a review from the Denver Westword, LPC's recordings are described as advancing "absurdity as an art form."
The anonymous artist has himself described the albums he has made as "phone work" or "absurdist" art rather than the less sophisticated label of "prank phone calls", and has also said, "They may be dumb, but they're not stupid". Those on the receiving end of a Longmont Potion Castle call are often left confused and/or extremely angry, as the calls frequently involve complaints about noise, requests for money or offers to "whoop" somebody. However his calls are rarely very mean-spirited in nature. His recordings combine prank calls with sound collages and his own musical compositions, the majority of which are thrash metal instrumentals. Occasionally, Longmont Potion Castle filters his voice through a Digitech RDS 8000 rack-mounted digital delay unit to produce odd sound effects, thus making whoever he has called even more confused.
In 2006, Longmont Potion Castle announced his retirement. In an interview with The Nerve Magazine, he explained that the box set Longbox Option Package would be the final LPC
release. However, in 2008 he released a new CD, Longmont Potion Castle Volume 6. In 2009, he released Volume 7 (not to be confused with his 2005 album of the same name released as a part of the Longbox Option Package box set, a disc that contained only thrash metal music). The album featured several celebrity calls, including ones to singer Eddie Money, Jeopardy! host Alex Trebek, and guitarist Rick Derringer. January 2011 saw the release of LPC 8, in which the artist primarily used Skype on a laptop computer to record the calls.
PRODUCTION NOTES
LOST IN NORWAY
Part of the reason original director David Hall, and original producer Vivek Venkatesh wasted so much money on the production of their documentary was a wild-goose chase they went on across parts of Europe looking for LPC. They were provided with false information as to the location of LPC and ended up in London, England and Norway. During their trip to Norway they became horribly lost and eventually arrived at a house they believed LPC lived in. With cameras rolling they approached the house, only to find an angry, Gimp-maksed Norwegian living there…he was not happy to see the Canadian filmmakers.
I am not a producer on this thing…
After an interview with actor Rainn Wilson, conducted by original director David Hall, the cameras, still rolling, catch Rainn reprimanding David Hall for using his name to raise awareness for the project, and for stating online that Rainn was an executive producer.
KICKED OUT BY DAVE MUSTAINE
During filming at a heavy metal and beer festival where legendary Megadeth and Metallica shredder Dave Mustaine was launching his new beer, original director David Hall was kicked out of the fest for harassing Mustaine and asking him what he thought of Longmont Potion Castle during another interview Mustaine was conducting.