From our sponsors: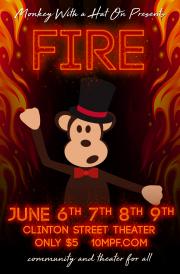 Monkey With a Hat On Ten Minute Play Festival
June 6-9, 2019
7 p.m. | All Ages
More info: cstpdx.com
Clinton Street Theater
2522 SE Clinton St, Portland, Oregon 97202
The Portland Ten Minute Play Festival is a seasonal collaborative event that features locally written ten minute plays for four nights over two weekends (same plays each night). Each play features different writers, directors, and actors—many people are involved! The festival is an opportunity for Portland artists to create unique moments and for the audience to experience a wide range of stories in one night. It's a fun, festival atmosphere!
Adult themes, language, and sexual references
Children allowed with guardian
Fire Ten Minute Play Festival
In the Fire 10MPF you'll experience human's first pre-historic spark, an urgent 911 call that goes terribly wrong, a seemingly innocent landlady interviewing potential tenants, a couple fighting while trying to evacuate a wildfire, the dark backstory of a man facing a firing squad, the love between a moth and a lamp, a fire station that doesn't take life too seriously, and what it takes for a demon to get ahead in corporate America.