From our sponsors: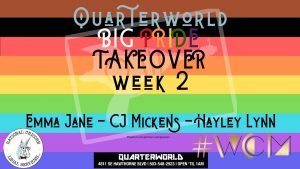 Big Pride Takeover Week 2
June 7, 2019
8p | $3 | 21+
More info: Facebook
QuarterWorld Portland
4811 SE Hawthorne Blvd, Portland, Oregon 97215
The Big Gay Variety Show presents week 2 of the Big Pride Takeover!
Huge thanks to our generous sponsor Rational Unicorn Legal Services LLC!
Featuring some of Portland's finest LGBTIQ+ musicians!
Emma Jane Music
CJ Mickens Music
Hayley Lynn
A portion of proceeds to be donated to Outside In. Come help us celebrate Pride month and support a good cause!
$3 Quarterworld Entry Fee – 21+