We are giving away several pairs of tickets to Portland International Beerfest @ North Park Blocks on June 28-30. To win, comment on this post why you'd like to attend. Winner will be drawn and emailed Friday, May 31.
———————————————
From our sponsors: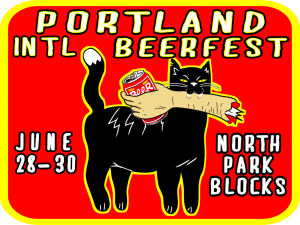 Portland International Beerfest
June 28-30, 2019
Friday: 4-10p
Saturday: Noon – 10p
Sunday Noon – 7p
21+ | $25-$40 ADV, $30 Doors
Tickets: Portland-Beerfest.com/Tickets
More Info: Portland-Beerfest.com
North Park Blocks
NW 8th Ave & NW Davis St, Portland, OR 97209
Every June, for 3 days, Portland International Beerfest brings a 40,000 SF Beer Party to the Pearl District. Grab your beer googles and join us for some drinking in the park. From local made to distant breweries in places like Brazil, Belgium, and Ukraine, PIB showcases over 200 specialty beers for you to try.
MUST SEE/DRINK SPECIAL FEATURES
The Grande Beer Garden featuring $3 Full Pints of Pilsner Urquell
Beerfest Bike Pie Joust (DO NOT MISS)
Super Rare Unibroue Vintage Big Bottle Pour
Deschutes Black Butted Cubed tasting
Stumptown Coffee Bean Infused Guinness for $1!!
PIB has great food carts, is PET FRIENDLY, and has tons of shaded seating.
Tickets: Advance Online only – SAVE $
No Ticket, No Problem: $30 cash at gate
Individual cost is $30 for a glass with 10 Beer Tix, but you can get 15 Tix for $25 (or better) if you buy online at portland-beerfest.com/tickets. Your Glass and wristband allow free re-entry all weekend, and they're required if you'd like a beer.
Most beers are 4oz pours and cost 1-7 Tix. 1 Tix = $1.
You can get extra Beer Tix on site for $1 each.
Great Deals:
PIB has 78 different 1-Tix Beers this year . That's like a $4 pint. Of 78 different craft and specialty beers. At a Festival. Let that sink in.
Pint Deals? Get a full 16oz Pint for the insanely low price of $3 (3 Tix) at the Grande Beer Garden, featuring Pilsner Urquell and Crispin Cider. More $4 Pints (still a crazy good deal) of Guinness Draught (reg. or coffee infused), Machine House Cask Ales, and Rosenstadt (dispensed from fresh gravity kegs) can be had by visiting their tables. Find PIB beer locations on our BEERLIST MAP & APP
PIB is open to anyone (21+). Non-Drinkers can enter PIB for free with a $5 cash suggested DONATION to our local animal charities.
PIB is a benefit for Pet Cross, a local animal welfare group founded here in Portland circa 2002. Since then Pet Cross has donated almost $200,000 of proceeds from our festivals to other local animal charities. Be sure to stop by the Puppy Kissing Booth at PIB and show some love.
Portland International Beerfest, Portland International Beer Festival, 2019 Portland Beer Events, 2019 Portland Beer, 2019 Portland Events, 2019 Portland Festivals, 2019 Portland June Events, 2019 Portland Summer Events, 2019 Portland Summer Festivals, Naked Bike Ride, Portland Beer Events, Portland Beer Festival, Pearl District, Portland Block Party, PIB, PDX Beer
#PIB #PIB2019 #Portland International Beerfest #Portland International Beer Festival #2019 Portland Beer Events #2019 Portland Beer #2019 Portland Events #2019 Portland Festivals #2019 Portland June Events #2019 Portland Summer Events #2019 Portland Summer Festivals #Naked Bike Ride #Portland Beer Events #Portland Beer Festival #Pearl District #Portland Block Party #PIB #PDX Beer