From our partners: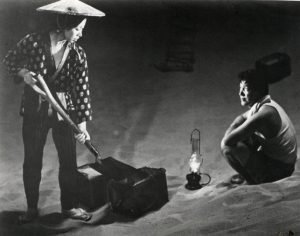 Woman in the Dunes (35mm)
May 24-26, 2019
Admission is FREE for PSU students & faculty w/ID.
$4 for all other students & seniors.
$5 General Admission
More info: 5thavecinema.com
5th Avenue Cinema
510 SW Hall St., Portland, OR
(503) 725–3551
Woman in the Dunes (35mm)
Dir. Hiroshi Teshigahara (1964); Japan, 147m
Starring: Eiji Okada, Kyôko Kishida, Hiroko Itô
Japanese with English subtitles
FRIDAY, MAY 24TH at 6:30pm & 9:30pm
SATURDAY, MAY 25TH at 6:30pm & 9:30PM
SUNDAY, MAY 26TH at 3:00PM
Based on the existentialist novel by Kōbō Abe with the Japanese title 砂の女 (Suna no onna) translated to the English title The Woman in the Dunes. Director Teshigahara reanimates shifting sand as its own dynamic character in a desolate landscape where only arthropods and crustacea crawl.
The film follows the endeavors of entomologist (Eiji Okada) on a bug-hunting quest from Tokyo, who finds himself stranded in a region of remote dunes after the last bus has left. Local villagers help him from his misfortune by offering him shelter for the night. Leading him to a rope ladder that falls into a sandpit with a lifeless house where a local woman lives (Kyoko Kishida). The following morning he finds that the ladder has disappeared, leaving the man in a frenzy calculating his escape. This film will seep inside your skin and mind like the infectious featured monochrome sand.
About 5th Avenue Cinema
Oregon's only student run cinema has been operating non-profit since 1989. Our goals are to provide further education for PSU students interested in film, as well as a fun place for people to see something they wouldn't ordinarily get to see on the big screen. The general public is always invited to attend and there is FREE POPCORN at every show. Our feature films are presented on 35mm film, with the occasional screening on our rare Norelco 16mm projector.
Free Admission for Portland State Students