We are giving away 2 pairs of tickets to Scandinavian Midsummer Festival @ Oaks Park on June 8 To win, comment on this post why you'd like to attend. Winner will be drawn and emailed Monday, June 3.
———————————————
From our sponsors: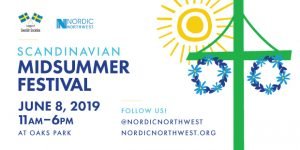 Portland Scandinavian Midsummer Festival
June 8 2019
11a – 6 p.m. | $8 adults; $7 students/seniors; $17 families (2 adults, 2 students); Kids 11 and Under are FREE | All Ages
More info: nordicnorthwest.org
Oaks Park
7805 SE Oaks Park Way, Portland, OR 97202
In the Northern lands of the midnight sun it is traditional to warm up after a long cold winter by celebrating Midsummer with friends, food, and drinks.
Decorate the Midsummer pole and make flower wreaths, indulge in Nordic summer delicacies, play games on the lawn, and enjoy the longest day of the year!
Scandinavian roots are not required to celebrate Portland's 91st annual Scandinavian Midsummer Festival. It continues to be a fun, family friendly, and important day with centuries-old traditions and everyone is invited!
Entertainment: Sit back and enjoy a wide variety of Scandinavian entertainment, from traditional dancing and physical comedy to vibrant live music, non-stop on two stages. These sounds and sights from across the Pacific Northwest provide the perfect backdrop for a lively midsummer celebration.
Food & Drink: What goes better with a cold one from our beer & wine garden than Nordic cuisine? Taste the classic flavors of thin Swedish pancakes, sweet cardamom rolls, cinnamon sugar lefse or round Danish æbelskiver – and that's just the appetizer! Come grab a bite from Viking Soul Food or the Scandinavian Café, Carina's Bakery, Sweet Kardamom, Finlandia Foundation or the League: lefse, laks, pølser, and more.
Vendors: Wander around the grounds and explore the booths with Nordic vendors from all over the Pacific Northwest! Shop everything from traditional swords & weaponry and Nordic vintage finds to locally-made Artisan crafts and Nordic outdoor gear. Visit the non-profits that offer fun Nordic programming in the Pacific Northwest.
Kids Craft Area: Join your child in fun Midsummer crafts, free face painting (12-2 pm and 3-4 pm), and games. Craft a Midsummer Flower necklace or a Nordic Walking Stick with wood from the Fogelbo Forest and more to keep the summer going all year long. Take part in this year's Midsummer Scavenger Hunt and win fun prizes!
Floral Wreath Making: The fresh summer greenery of nature is said to contain magic. The weaving of floral Midsummer wreaths has been a way to harness this magic and ensure good health throughout the year in traditional Midsummer celebrations in Scandinavia for centuries. Legend says that girls who pick seven flowers and put them under their pillow will dream of the person they will marry! Use bright flowers, green leaves, and delicate birch branches to weave a midsummer crown of your own!
Raising of the Midsummer Pole: When the sun is high in the sky, grab a dancing partner big or small and join us in a celebratory dance around the Midsummer Pole! The
Lawn Games: Kids don't get to have all the fun! We have lawn games for everyone. Work on your strength with a group game of tug-of-war, test your speed and agility with our potato sack & egg races and become a master at croquet and Giant Jenga (Nordic edition), or the classic Scandinavian game, Kubb! Knock down your opponents wooden King before they get to yours in this game of oversized "Viking chess!"
Oregon Heritage Tradition: The Oregon Heritage Commission has designated our Portland Scandinavian Midsummer Festival an Oregon Heritage Tradition Day! The Oregon Heritage Tradition designation recognizes events more than 50 years old that represent what it means to be an Oregonian. Nordic Northwest is honored to be included in the list of events that go back as far as 1858!
Join us in celebrating the festival that attracts audiences and vendors from across the Pacific Northwest. The Portland Scandinavian Midsummer Festival is an important event for the entire Portland Community regardless of heritage. See the traditions of the region that make up 10% of the population of Oregon's ancestry. This all day event is one of the many ways NNW and the League of Swedish Societies, along with the more than 25 Nordic organizations that make up our community, demonstrate and celebrate their Nordic heritage.
The Portland Scandinavian Midsummer Festival is made possible through the support of the ScanDesign Foundation. Additional support comes from Nielsen's Jewelers, Laurelhurst Florist, Inc., ePrint Services, pFriem Family Brewers and Allart.