We are giving away a pair of tickets to Mono @ Aladdin Theater on June 7 . To win, comment on this post why you'd like to attend. Winner will be drawn and emailed Monday, June 3.
———————————————
From our sponsors: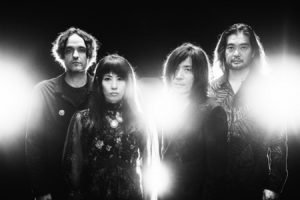 Mono
June 7, 2019
Doors 8 p.m., Show 9 p.m. | $18 ADV, $20 Doors | All Ages
More info: aladdin-theater.com
Aladdin Theater
3017 SE Milwaukie Ave, Portland, OR 97202
The Tokyo, Japan based 4 piece Instrumental Rock band MONO was originally formed in 1999. Their unique approach of blending orchestral arrangements and shoegaze guitar noise in their music has been held in extremely high regard; so much so, that the band's musicianship can no longer be sustained by Rock music alone and was praised by British Musical Magazine NME as "This is music for the Gods". One of the most monumental live memories of the band was a special set of shows with 23-piece orchestra in New York, Tokyo, London and Melbourne.

 Their annual world tour consists of around 150 shows. The band has now visited over 50 countries and proudly holds the stake of being one of the most internationally successful bands in Japan. Among their fans, they are revered as one of the best live bands in Rock.

After releasing 9 successful albums including a live album with New York orchestra, the band received the highly regarded award "The Marshall Hawkins Awards: Best Musical Score – Featurette" from the Idyllwild International Festival of Cinema for their collaborative short film "Where We Begin" in 2015.

Now in 2016, the band has finished recording their 9th album with Steve Albini at Electrical Audio, Chicago. The album is set for an Autumn 2016 release.
Emma Ruth Rundle
The cover to Emma Ruth Rundle's fourth solo record, On Dark Horses, bears a blurry photo of the songwriter obscuring her face with a large toy horse with broken legs. The photo suggests something candid but also hidden, graceful but also fractured—a fitting portrait for an artist who has established a career by vacillating between shrouding herself in mystery and exposing her wounds to the world. Her first solo release, Electric Guitar: One, was a collection of Frippian guitar instrumentals written and recorded in the backseat of a tour van during her tenure in Red Sparowes. It's a record devoid of context, revealing nothing of Rundle's personal narrative. The first peek behind the curtain came with Some Heavy Ocean, where layers of distortion were excised in favor of acoustic guitar and Rundle's beguiling vocals. There was a distinct difference by the time Rundle released Marked For Death, a stark and deeply personal meditation on mortality and self-destructive behavior. Her entire musical trajectory—from the cinematic instrumentals of Red Sparowes to the lush haze of Marriages and onward through her solo career—seems like a gradual disclosure of intimate secrets. With On Dark Horses, Rundle doesn't shy away from uncomfortable realities or retreat into a private world, but it does capture an artist who has survived their personal nadir and come out stronger on the other side.
"In the wake of weak beginnings, we can still stand high," Rundle sings over banks of electrified minor chords and ghostly guitar leads on "Darkhorse". It's a statement of purpose and a recurring motif throughout the album. "The record is about overcoming—understanding and embracing the crippling situation and then growing beyond it," Rundle says. "Horses keep working their way into the lyrics and visual dimension of this record. They're powerful and beautiful yet not free really. So the dark horse works for me in a visual way, as a representation of a contained force that will win the race or exceed the expectation of society and self." The horse metaphor takes a darker turn on the reverb-soaked gothic Americana song "Races", where Rundle draws a parallel between alcoholism and being a "touring vampire wastoid… creeping around in the night dragged along by the need."