From our sponsors: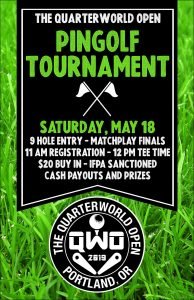 Open Pingolf Tournament
May 18, 2019
11a-Midnight | $20 Buy in | 21+
More info: Facebook
QuarterWorld Portland
4811 SE Hawthorne Blvd, Portland, Oregon 97215
Objective and score based on a 5-Ball Pin-Golf format. Competitors will have a choice of either the front or back nine holes on an 18 hole course. Entrants will have choice of which 9 holes (front 9 or back 9) to play until one side is full. Selection of front or back 9 will be based on your registrationn on the day of the event. First to register will have first selection and so on. Once either the front or back 9 has been filled, the remaining competitors will be placed in the remaining open slots. Entries will be limited to one round of 9 holes per person.
Pin-Golf will consist of 9 holes of Pin-Golf. Each hole will consist of one game of pinball in which you will have 5 balls to complete the objective for that game. If you complete the objective on your first ball that counts as one stroke. If you complete the objective on your second ball that would count as two strokes and so on. If you do not complete the objective after your fifth ball that would result in an extra stroke and your stroke count for that hole would be marked as 6 strokes. The goal is to have the least number of strokes after all 9 games or "holes" have been played.
After all competitors have completed their 9 holes, the top 8 with the lowest score on each side of the course advance to finals, 16 players total. Ties will be decided with a one game playoff on a randomly selected machine. (If there are fewer than 32 total entries this may be adjusted at tournament directors discretion)
Finals will be 3 rounds of a multi-matchplay format. The first two rounds will be played on the groups opposing 9 holes, so if you played the back 9 holes you will be having finals on the front 9 holes.
The multi-matchplay format will consist of 4 players competing on 4 machines simultaneously. Player one will play ball one on the first machine, player two will play ball one on the second machine and so on. After ball one has ended, players will play their next ball one on the next machine in the line up. The round has ended when all players have played all 5 balls on all four machines in their bank of machines.
Round 1 top seed on either group will have their selection of bank 1 or 2 of the front or back 9 (Bank 1 being holes 1,2,3, and 4 for the front 9 and 10,11,12, and 13 for the back 9. Bank 2 being holes 5,6,7, and 8 for the front 9 and 14,15,16, and 17 for the back 9). Scoring will be 4-2-1-0 for matches. Top two from each group move on to the next round.
Round 2 top seed on either group will have their selection of bank 1 or 2 of the front or back 9 (Bank 1 being holes 1,2,3, and 4 for the front 9 and 10,11,12, and 13. Bank 2 being holes 5,6,7, and 8 for the front 9 and 14,15,16, and 17 for the back 9). Scoring will be 4-2-1-0 for matches. Top two from each group move on to the next round