From our partners: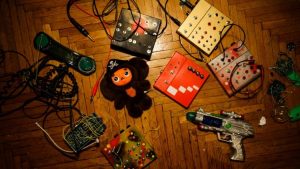 Elektro Moskva
May 17-19, 2019
Admission is FREE for PSU students & faculty w/ID.
$4 for all other students & seniors.
$5 General Admission
More info: 5thavecinema.com
5th Avenue Cinema
510 SW Hall St., Portland, OR
(503) 725–3551
Elektro Moskva (DCP)
Dir. Elena Tikhonova & Dominik Spritzendorfer (2013); Russia, 89m
Starring: Alexey Borisov , Stanislav Kreichi, and Dmitriy Morozov
Russian with English subtitles
FRIDAY, MAY 17TH AT 7:00PM & 9:30PM
SATURDAY, MAY 18TH AT 7:00PM & 9:30PM
SUNDAY, MAY 19TH AT 3:00PM
The Theremin, a completely touchless electronic instrument played through the placement of the hands around two metal coils, is the first (but surprisingly not the only) Soviet-made electronic instrument.
Delving into the underground Soviet culture of synthesizers under Lenin's rule, Elektro Moskva introduces the world to a hidden subculture of electronic instrument enthusiasts as they recount the history and how they engage contemporaneously. The begging question on my mind is if Hannibal Buress is as talented with these as he is with his instrument of choice (I'm talking about the Theremin. He's really good at it. Google it.)
About 5th Avenue Cinema
Oregon's only student run cinema has been operating non-profit since 1989. Our goals are to provide further education for PSU students interested in film, as well as a fun place for people to see something they wouldn't ordinarily get to see on the big screen. The general public is always invited to attend and there is FREE POPCORN at every show. Our feature films are presented on 35mm film, with the occasional screening on our rare Norelco 16mm projector.
Free Admission for Portland State Students