From our sponsors: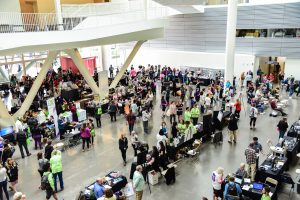 2019 PDX Skincare Festival
May 18, 2019
9a-3p | FREE | ALL AGES
More info: ohsu.edu
Robertson Collaborative Life Sciences Building
2730 S.W. Moody Ave., Portland, OR 97201
Join us for the 2nd annual PDX Skincare Festival — a free community event uniting health care and skincare to spread melanoma awareness and education!
Free skincare services — 9 a.m. – 3 p.m.: Free services, samples, tips and info from professionals such as massage therapists, estheticians, hair designers, nail care technicians, body artists and more.
Free skin cancer screenings — 11 a.m. – 3 p.m.: OHSU and community providers will provide free rapid skin cancer exams and share self-prevention tips. These screenings are by appointment only. Please call 503-418-3376, and reference "free skin cancer screening on May 18".
-Note: skin cancer screenings are happening at OHSU Center for Health and Healing, 16th Floor, 3303 SW Bond Ave. Portland, Ore. 97239*
Steps Against Melanoma 5K Walk — Check-in opens 7:30 a.m. — Walk begins 9:00 a.m.: Walk to honor those affected by melanoma. AIM at Melanoma is hosting a Steps Against Melanoma community 5K walk in conjunction with the PDX Skincare Festival to raise awareness and funds for skin cancer research.
-Walk solo, or gather a team! Register for the walk online.
Melanoma Survivors to Thrivers Symposium — 11:30 a.m. to 2:45 p.m.: Join us the Melanoma Survivors to Thrivers Symposium to learn and interact with leading melanoma professionals and others affected by melanoma. Whether you are recently diagnosed, are in treatment, have completed treatment, or are a caregiver/loved one of someone with melanoma, this event is for you. Topics will include treatment options, emerging therapies, side effect management, coping, community engagement and more!
To learn more, or register for any of the activities, see www.ohsu.edu/pdxskincarefestival.