From our sponsors: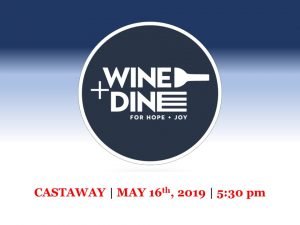 Wine & Dine for Hope & Joy
May 16, 2019
5:30 p.m. | $125
More info: wine-dine.campukandu.org
Castaway
1900 NW 18th Ave, Portland, OR
The event will highlight elite restaurants and wineries from around Oregon for a hearty sampling of the Pacific Northwest's finest fare.
Childhood cancer changes the lives of the children it affects but also those of their families. But at Camp UKANDU , for one week a year, children with cancer and their siblings, are able to get back to just being kids, enjoying rites of passage and experiencing hope and joy. This transformative experience is one that campers never forget.
Camp UKANDU serves 132 campers and their families each and every year. Camp is 100% free to campers but at a cost of $1,500 per camper, we can't do it without the kind generosity of our community. That's why we hope folks will join us for the second annual Wine & Dine for Hope & Joy taking place at CASTAWAY Portland on Thursday, May 16 starting at 5:30pm.
Premier chefs from around Portland will be sampling signature dishes alongside elite Oregon wineries. Attendees will enjoy tastes from restaurants including Vitale Paley's latest concept, Rosa Rosa, Q, Mediterranean Exploration Company, LeChon, Toro Bravo, Il Solito, Nuestra Cocina, Tanner Creek, Eem, and Nel Centro. Featured wineries include Winderlea, Soter, Walter Scott, Flaneur, Argyle, Kelley Fox Wines, St. Innocent Winery, R. Stuart Wines, Joyful Noise, and Illahe.
"Bee's ultimate remission wasn't when she rang that bell in Doernbecher at the end of her last chemo treatment, it was this amazing June day as she walked tall out of a camp that had healed her and given her back her confidence as an individual, as a friend, and as a human being."
Camp UKANDU Parent
Tickets are available for purchase at: www.wine-dine.campukandu.org.