From our sponsors: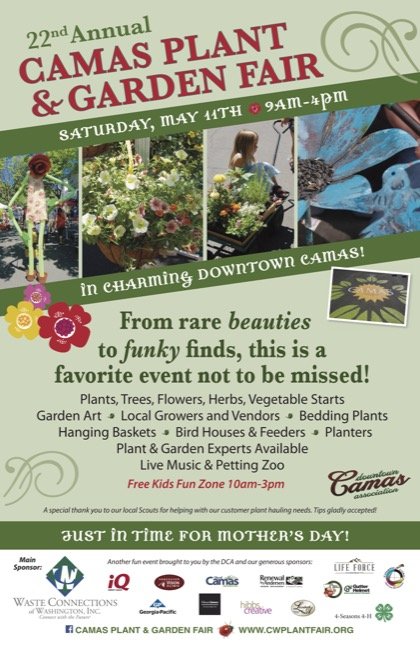 Camas Plant & Garden Fair
May 11, 2019
9a-4p | Free | All Ages
More info: downtowncamas.com
Location: DCA info booth, 4th and Cedar, Camas
The 22nd annual Camas Plant & Garden Fair will return to the beautiful tree-lined streets of historic Downtown Camas on Saturday, May 11th from 9am-4pm bringing thousands of visitors to town to explore the offerings of local nurseries, growers, and garden artists.
Customers will find a large assortment of trees, plants, flowers, garden art and furniture, planters, veggie starts, birdhouses and feeders, pottery, metal art, flowering hanging baskets, garden benches, stone art, sculptures, herbs, and more. All products are grown or handmade locally. It is the day before Mother's Day, making it a perfect time to buy a gift for mom or find just what you need for your own yard or garden. Kids' activities, including a petting zoo and crafts; live music; fresh food; and the shops and restaurants of Downtown Camas all add to the community experience.
"This event is a community favorite and this is an annual tradition for so many families," says Carrie Schulstad, Executive Director for the Downtown Camas Association. "The selection of gorgeous quality plants, flowers and trees and the large variety of garden art is simply amazing. You'll find tried and true varieties and offerings but also plants you won't find other places. We also provide an Expert List so you can connect with vendors that can answer your specific plant or gardening questions. The Kids' Zone and other entertainment will be back as well. Come stroll the streets of charming Downtown Camas and soak it all in. The Camas Plant & Garden Fair is fun for the entire family."