From our partners: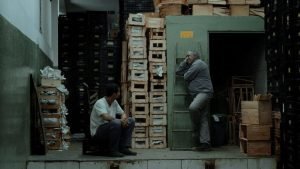 Araby
May 3-5, 2019
Admission is FREE for PSU students & faculty w/ID.
$4 for all other students & seniors.
$5 General Admission
More info: 5thavecinema.com
5th Avenue Cinema
510 SW Hall St., Portland, OR
(503) 725–3551
Araby (DCP)
Dir. Affonso Uchôa and João Dumans (2017); Brazil, 98m
Starring: Murilo Cariari, Aristides de Sousa, and Renata Cabral
FRIDAY, MAY 3RD AT 7:00PM & 9:30PM
SATURDAY, MAY 4TH AT 7:00PM & 9:30PM
SUNDAY, MAY 5TH AT 3:00PM
Closing our theme of American cinema, it would be a misstep to not reassess our connection to the word "America". "America" is not solely relegated to the United States, and spans past the denotation of "North" as well. Arguably our closest "international" community to the US is Latin and South America with its own heritage and filmmaking tradition.
The road film is almost ubiquitous with the United States, however, the internal struggle and journey to find oneself is a purely human one. A transformative and uniquely Brazilian affair in the form of social realism. Araby follows wandering laborer, Cristiano's ten year journey through the southeastern region of the country, and to the coastal city of Ouro Preto.
About 5th Avenue Cinema
Oregon's only student run cinema has been operating non-profit since 1989. Our goals are to provide further education for PSU students interested in film, as well as a fun place for people to see something they wouldn't ordinarily get to see on the big screen. The general public is always invited to attend and there is FREE POPCORN at every show. Our feature films are presented on 35mm film, with the occasional screening on our rare Norelco 16mm projector.
Free Admission for Portland State Students