From our sponsors: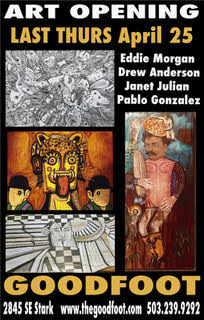 Last Thursday Art Opening
April 25, 2019
5p | Free
More info: thegoodfoot.com/gallery/
Goodfoot Pub & Lounge
2845 SE Stark St, Portland, Oregon 97214
The Goodfoot will have an art opening on last Thurs April 25th from 5pm – 2 am. This months artists are Drew Anderson, Eddie Morgan, Janet Julian and Pablo Gonzalez
Drew Anderson is native Oregonian artist, passionate about creativity, innovation, humor, technology. Drew channels his creative energies into a variety of creative outlets, drawings, doodling, illustrations, photography, story telling, funny joke telling, not funny joke telling, video, the internet, robots, games and more. Drew grew up in Oregon in a highly creative and artistic family. For many years he explored absurdly ridiculous ideas and inventions with his Millions of Hundred Dollar Ideas (MoHDI). He held the title of CraftMaster in Portland, was presented with the Key to the City in New York, ran multiple art galleries and continues to work on some building some big ideas.vCurrently Drew has been developing a series of artwork that incorporates several styles he's transitioned through over the years. He has been putting a lot of creative energy into building a startup and exploring artistic ventures online.
Eddie Morgan "My work explores the relationship between the body and unwanted gifts.
With influences as diverse as Derrida and johnny Rotten .New combinations are generated from both explicit and implicit layers. Ever since I was a child I have been fascinated by the theoretical limits of the moment. What starts out as triumph soon becomes corrupted into a manifesto of distress, leaving only a sense of failing and the chance of a new understanding. As spatial phenomena become frozen through boundaries and repetitive practice, the viewer is left with an insight into the outposts of our culture and a small view of my somewhat twisted mind."
Janet Julian is a widely collected salvage artist who resides in Portland OR . She makes characters , mostly female, out of old wood in the form of scrollsaw cutouts, old spoons and collage paintings . They are often a mixture of the iconic and the earthly . Janet loves to hang her art in the "museums of the everyday" as she calls bars , coffee shops , beauty parlors and other public spaces where people gather .
Pablo Gonzalez from Veracruz, Mexico. The art for me is the STUDIO intentionally of communication of feelings product of sensibilities, starting from zero. Art is creating, meditation with intention of transcending and going beyond politics and borders.