From our sponsors: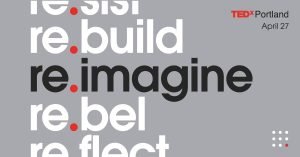 TEDx Portland: re.imagine Your Future & The World Around Us
April 27, 2019
8a-5p | $85-$250 | All Ages
More info: eventbrite.com
Keller Auditorium
222 Southwest Clay Street, Portland, OR 97201
Year 9 of our city's annual TEDxPortland is just around the corner, and tickets are almost sold out! This year we are bringing you a new way to re.imagine your future and the world around us. We give you our word that this will be the most inspirational day of the year, here in Portland.
We are living in trying times – yearning for truth, knowledge, peace of mind, and a path forward. Hope rests in our ability to understand, change, and begin anew. And the power of ideas inspires us to recalibrate adversity into prosperity.
Year nine of TEDxPortland is committed to connecting the dots so that we all may better embrace our civic responsibilities, communities, one another – even our own selves. Together, we will reimagine our future.
Twelve speakers and four performances will explore this theme at the ninth annual TEDxPortland on April 27 at the Keller Auditorium. Portland's own visionaries will be on hand, as will future-thinking leaders from elsewhere.
We are excited to bring you a vast array of disciplines, perspectives, and inspiration. We have thoughtfully chosen each speaker and performer and are proud to bring them live to you all. Additionally, we once again will be welcoming to the stage our Ideas Booth Speaker, who submitted their idea through our community sourcing platform – the Ideas Booth, hosted at the Oregon Historical Society!
TEDxPortland 2019 will also include four artistic performances, a complimentary happy hour and party at Keller Park, and 3,000 of Portland's most inspiration-hungry community members.
We hope to be able to share this iconic day live with you at Keller Auditorium. So be sure to grab your tickets here before they sell out! For those not attending in-person, the public can view TEDxPortland via livestream on KGW.com.