From our sponsors: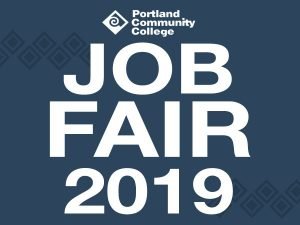 2019 Portland Community College Job Fair
April 30, 2019
11a-3p | Free | All Ages
More info: pcc.edu/cascadejobfair
Cascade Campus Gym
705 N. Killingsworth St., Portland, OR
A few of "Oregon's Most Admired Companies" will join the ranks at the Portland Community College Job Fair at Cascade Campus this year. Connecting Portland-area job seekers with living-wage jobs at the 22nd annual event.
Columbia Sportswear, OHSU and New Seasons will be on hand along with over 100 other companies from 11 am to 3 pm Tuesday, April 30 in the Cascade Campus Gym, 600 N. Killingsworth Street. These companies are looking to fill a wide range of positions.
One of the most appealing aspects of the Job Fair is the opportunity to meet with and speak to a number of employers in succession. This means a job seeker is able to compare and contrast the skills, experience, education level and culture of the organization from various employers and industries, and get an idea of how their qualifications measure up.
The 2019 PCC Job Fair at Cascade Campus is sponsored by Pamplin Media Group.
It's a good idea for job seekers to do a little homework in advance of the Job Fair. The fair's website, www.pcc.edu/cascadejobfair, has tips on how to dress and what to say, including a brief video on developing your "elevator pitch" for employers.
For more information, call 971-722-5600 or see www.pcc.edu/cascadejobfair.