From our sponsors:

Drag Makeup Workshop & Runway Fashion Show
May 4, 2019
Open to all – Space is limited
Class 9:30am-4pm (Runway Show 4:30-5:30)
Enroll at artofmakeup.com
Art of Makeup School
11830 Kerr Pkwy #211, Lake Oswego, OR 97035
We are tickled pink and beyond excited as we welcome Darcelle XV's very own showgirl and weekend warrior Syra St. James!!! You may have seen her twirling and prancing through other events like, Stag for Brunch or Not Another Drag Show, but get ready to be served up some true Drag deliciousness as she drops some makeup knowledge to help you create stunningly fabulous looks.
Syra has been performing for 8 years from Seattle to Portland at many events, brunches, and performances around town, including Bonfire, Not Another Drag Show, Stag for Brunch, and Diva's Under the Influence, and has taught many workshops on the fundamentals of altering facial structure, exaggerating the eyes, and how to sashay in your new persona! You Betta' Bring Your A Game and get ready to slay, because your looks will be judged during our FIRST EVER Drag Runway Show with our Honorary Panel of Drag Queens. The bravest class models will get the chance to turn the party, and werk it down the runway. Winning artist will receive a special prize!
Drag Runway Show will be open to the public, free, and will include a meet and greet and pictures with the host of our show, Syra St. James and his special guests!
Light snacks and refreshments included.
All are welcome – The Runway Show is FREE to all!
Coming Up:
Cosplay: Sword & Helmet Fabrication Workshop on July 12-14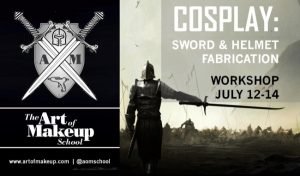 Open to all – Space is limited
July 12-14 (Fri 6:30pm-9:30pm; Sat & Sun 10am-5pm)
Tuition: $275
More info: artofmakeup.com
Learn how to fabricate a helmet and sword to bump up your cosplay skills. You'll get to design your own concept and learn basic fabrication skills that can be used on any future cosplay designs. In this class you'll get to use new types of tools, piece together unfamiliar materials to mold, paint, and create specific objects that help bring your costume to life! This is the class to let your imagination run wild!
What's included:
Shared tools and class supplies
Staged photo shoot for your props
Full res digital images from the photo shoot