From our sponsors: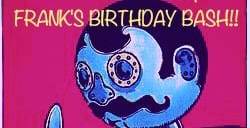 Bad Shadows//Mantis//Dark Oz
April 13, 2019
Free | 6-9 p.m.
More info: Facebook
Bare Bones Cafe & Bar
2900 SE Belmont St, Portland, Oregon 97214
KICK-ASS SHOW ALERT:
Come get strange with us, Bad Shadows, Mantis and Dark Oz! Make a hip-hop-hooray- CHEERS (even if ya don't know him, yet) to Frank of Dark Oz cuz it's his f-in' birthday party!
Dark Oz starts this early free show at 6 sharp!