We are giving away a pair of tickets to April Power Breakfast @ Sentinel Hotel on April .25 To win, comment on this post why you'd like to attend. Winner will be drawn and emailed Monday, April 22.
———————————————
From our sponsors: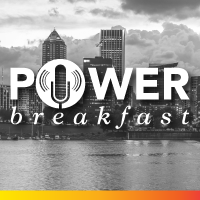 April Power Breakfast
April 25, 2019
All Ages | 7-9a | $50
More info: bizjournals.com
Sentinel Hotel
614 SW 11th Ave., Portland, OR 97205
Chris Cox and Jeremy Cox are twin brothers, successful entrepreneurs and business owners based in Bend, OR. The duo opened their first owned-business with a local bar and soon after co-founded what would become 10 Barrel Brewing Co. Since then, they have used their expertise in the beer industry to start a handful of other alcoholic and non-alcoholic beverage companies. Most recently, and in addition to overseeing all of the aforementioned businesses in their day-to-day, Chris and Jeremy are partners in an award-winning boutique steakhouse, Bos Taurus, and have two additional restaurants, Miyagi ramen and a taqueria, that will soon open in Bend. They are also investors in assisted living communities, real estate and an insulated water bottle company.
10 Barrel Brewing Company dates back to 2006 when twin brothers Chris and Jeremy Cox decided to brew their own beer. Within ten years, 10 Barrel Brewing has become a national leader in the world of craft beer, representing Oregon's brewing mecca to states and cities far and wide including Bend, Portland, Miami, San Diego, Denver and Boise. With over seven pubs around the country and distribution flowing into thirty states this year, the brewing company is arguably one of the most successful to come from the Northwest.
Like many craft breweries, 10 Barrel started from humble beginnings its founders selling homemade ales to friends, roaming the town with kegs in their trucks and trying to get restaurants to buy them. When the locals caught on, the community of Bend rallied around 10 Barrel.
The brewery became a source of controversy in 2014, however, when it announced its sale to Anheuser-Busch InBev. The founders maintained an unapologetic attitude about the sale. Since then, Cox has reported that 10 Barrel has not relinquished its creative control.The brewing focus has remained the same since 2006 – creating unique, thought provoking and interesting beers, with an emphasis on having fun. Their philosophy encompasses both the scientific and artistic expressions of brewing and the public certainly has been responding well to the brand.