From our partners: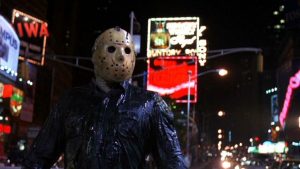 Friday the 13th Part VIII: Jason Takes Manhattan
April 5-7, 2019
Admission is FREE for PSU students & faculty w/ID.
$4 for all other students & seniors.
$5 General Admission
More info: 5thavecinema.com
5th Avenue Cinema
510 SW Hall St., Portland, OR
(503) 725–3551
Friday the 13th Part VIII: Jason Takes Manhattan (Digital)
Dir. Rob Hedden (1989); USA, 100m
Starring: Jensen Daggett, Kane Hodder, Todd Caldecott
FRIDAY, APRIL 5TH AT 7:00PM & 9:30PM
SATURDAY, APRIL 6TH AT 7:00pm & 9:30PM
SUNDAY, APRIL 7TH AT 3:00pm
After being resurrected for the eighth time, Jason comes across a boat that is hosting a high school graduation. Our final girl Rennie (Jensen Daggett) begins seeing visions of Jason drowning, which means her sea voyage is about to get a lot bloodier. Jason ends up following them to Manhattan and wreaks havoc in the city, allowing us experience the Big Apple with him. He rides the subway, encounters drug addicts, and even takes a stroll through Times Square. Still, this is an entertaining entry into the franchise due to its change in setting, Jason's interaction with New York's populace, and the fact that it features one of the best one-punch death scenes in the series.
About 5th Avenue Cinema
Oregon's only student run cinema has been operating non-profit since 1989. Our goals are to provide further education for PSU students interested in film, as well as a fun place for people to see something they wouldn't ordinarily get to see on the big screen. The general public is always invited to attend and there is FREE POPCORN at every show. Our feature films are presented on 35mm film, with the occasional screening on our rare Norelco 16mm projector.
Free Admission for Portland State Students