From our sponsors: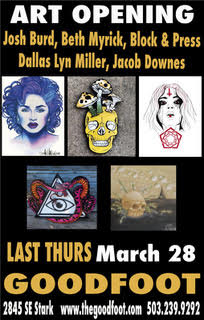 Last Thursday Art Opening
March 28, 2019
Free | 5p-2a
More info: thegoodfoot.com
The Goodfoot
2845 SE Stark St, Portland, Oregon
The Goodfoot will have an art opening on last Thurs March 28th from 5pm – 2 am. This months artists are Joshua Burd, Beth Myrick, Block & Press, Dallas Lyn Miller, Jacob Downes
Beth Myrick As a North Carolina kid, Beth started spraying painting t-shirts for friends at school and shortly after discovered wood cutouts & spray paint when she was working on a project for her folks. Since then her work has taken shape and developed into a multi layered succession of outstanding work. Within the recent years there's been an obvious change in her style and we asked her what contributed to the change: "As for the recent change, I would say it's a combination of not wanting to be stagnant, my inability to sit still, or staving off any biters that were slowly mimicking my work." Imagine if Lisa Frank had decided to illustrate train cars instead of your binder from 6th grade. One thing about that makes the work of Beth Myrick stand out is the playfulness of it. Whether it's a pink shark or a green raccoon, the seriousness and pretense familiar in many collections will not be found here. This is much like her process, sawing and spraying into the night, fueled by cheap beer and good whiskey. It's all in fun. Much like her mantra–which can be found on surfaces across this country–EVERYTHING WILL BE OKAY. Her art says this in every whimsical turn.
Block & Press is a multi-media artist focused in graphic design, sign painting, vinyl works, printmaking, painting and experimental practices. Recently, she teamed up with local artist, Beth Myrick, to form the You Can't Sit With Us, a two-person art collective in SE Portland. Y.C.S.W.U. creates varied works including painted wood cut art, light-boxes, signage, murals and custom pieces.
Dallas "Lyn" Miller is an Oregon native growing up in rural Eastern Oregon. With nearly 20 years in the cosmetic industry he turned his attention towards his love for art in 2011.
Lyn's medium of choice is color pencil. He often cites appreciation for the challenge of color pencil. His goal is to create a dreamlike balance between surrealism and realism for a modern take on portraits and pop art as if there were no cameras. Being an artist is the balance of nurturing the imagination and fantasy of the inner child while also being able to drive the manager of one's talent.
One description of Lyn's art that is worthy of sharing comes from his sister-in-law. "I think your art provides an escape from the harshness of the world we live in today. It provides a world of color, light and hope. You also get to see a part of you, the artist, in each piece. Whether it be a problem you see in the world or something you feel that is still good in the world, there is always a message to be found if you look for it."
Jacob Downes I have been told before that my art has atmosphere. That my art exists in a certain space that pulls people in. I believe this atmosphere is related to the isolation and disconnection I have experienced in my life. I have used my isolation as an opportunity to play with my imagination. My work is a collection of metaphysical conversations, surrealistic intimacy, and unexpected connections with a flair of humor. I like to define my work as "Quintessentially Queer with a Quirky Quip," but I'm nerdy like that.
Joshua Burd is a black ink tattoo artist in Portland, Oregon. He is known for doing animals and floral work, but also does a wide variety of nerd culture pieces, ranging from anime to video games. His inspiration stems from many years camping and hiking around the PNW, and a fondness for animals of all kinds. Particularly cats.