From our sponsors: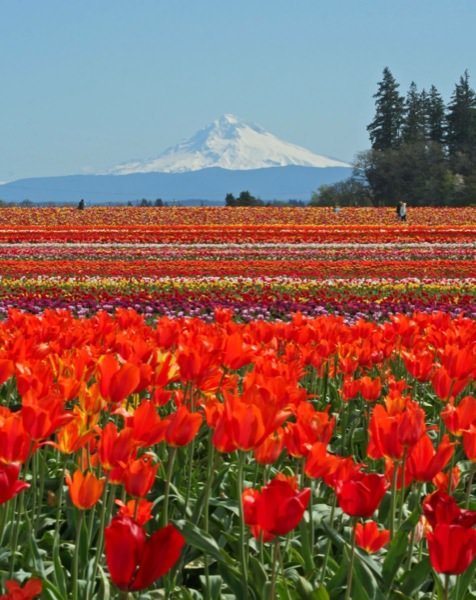 Wooden Shoe Tulip Festival
March 23-May 5, 2019
Mondays-Thursdays 9 a.m. – 6 p.m.
Fridays to Sundays 8 a.m. – 7 p.m.
All Ages | $5 Per Person / $20 Max Per Car
More info: woodenshoe.com
Wooden Shoe Tulip Farm
33814 S. Meridian Rd. Woodburn, OR 97071
The Iverson Family is pleased to present the 35th annual Wooden Shoe Tulip Festival. An expansive 40 acres of tulips spread out across the east Willamette Valley farm, boasting 120 varieties and a rainbow of colors. People of all ages are invited to enjoy the 2019 Tulip Fest, which runs daily through May 5!
"We're excited about this upcoming season," said Barb Iverson, Wooden Shoe Tulip Farm owner. "We had an extremely cold February and start to March, so full bloom is trending about 3 weeks behind schedule. We hope the sunshine keeps up during March so we have a little color when we open March 23rd. We often get out of town visitors here on Spring Break and we want their experience here as memorable as if we were in full bloom."
Everyone from professional photographers to snapping Instagrammers will have endless photo opportunities. Iconic landmarks include the Wooden Shoe Tulip Farm windmill and pink tractor, with the beautiful backdrop of Mt. Hood. There are special packages available to capture special photos in the beautiful early morning or early-evening light.
New attractions to the festival include a local farmers' market on the weekends, a children's race car track, extended weekend hours, a new barn for the farm's Red Barn Hemp products, and a new Wooden Shoe Vineyards wine, Sweet Tempranillo. Daily, visitors can enjoy hay wagon, tour, and cow train rides, a local artisan fair, wine tasting and hemp product sampling, and food vendors. On weekends, additional activi- ties include wooden shoe making demonstrations, expanded play area, pony rides, jump tents, zip lines, paintball, and Wine Wagon Farm Tours for 21+ guests.
The Wooden Shoe Tulip Fest is open Monday – Thursday 9 a.m. until 6 p.m, and 8 am – 7 pm on week- ends. Individual admission is $5 per person ages 13 and above with a maximum car charge of $20. Children 12 years and younger are admitted for free.
For more information about the festival, daily events, Wooden Shoe Vineyards and Red Barn Hemp, please see www.woodenshoe.com.