From our sponsors: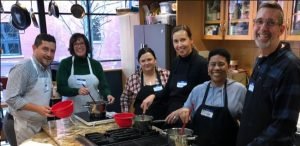 Feed The Mass Cooking Classes
All Ages & Levels
More info: feedthemass.com
Feed the Mass is a Portland nonprofit cooking education organization with a goal of bringing people together. We promote healthy eating and inclusion and strive to inspire everyone to cook meals from scratch. We are the only nonprofit cooking school in Portland.
We offer affordable cooking classes to the community because we believe food education and empowerment are crucial. We engage the community to give back so that people from all cultures and backgrounds can come together.
Our Mission: Empower through Food.
Inspire
We encourage you to come out of your comfort zone by trying a new recipe or cooking for the first time. We'll empower you with the right skills and tools so that you feel a sense of accomplishment. We hope that by inspiring you, you will pass this feeling along to friends and family, and meet new people.
Promote Inclusion
We welcome individuals from all cultures and backgrounds. We want to include and empower children, parents, students and seniors; friends, family and neighbors. Cooking should be a fun experience that helps break down barriers and helps people appreciate both the similarities and differences through sharing food around the table.
Encourage Healthy Eating
We instill the importance of knowing exactly what is on your plate. We focus on simple, basic, raw ingredients and hope to minimize—if not end—the reliance on processed and prepared foods. We support all diets and believe cooking from scratch can help people create healthy, high-quality meals.