From our sponsors: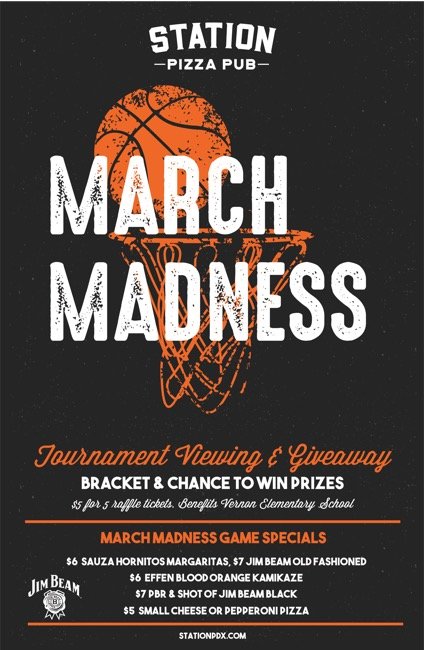 March Madness Tournament
March 21-24, 28-31, April 6, 2019
More info: Facebook
The Station Pizza Pub
2703 NE Alberta St., Portland, OR 97211
(503) 284-4491
Watch the NCAA March Madness at the Station Pizza Pub! Enjoy game day drink specials such as $6 Sauza Hornitos Margaritas, $7 Jim Beam Old Fashioneds, $6 Effen Blood Orange Kamikazes and $7 PBR & shot of Jim Beam Black. Pair it with our game day $5 Small Cheese or Pepperoni Pizza throughout the tournament series.
Get in on the March Madness fun with a chance to win prizes! Enter to win with $5 for 5 raffle tickets for super, sweet SWAG prizes throughout the tournament series. Raffle tickets benefit our neighbor, Vernon Elementary School.