From our partners: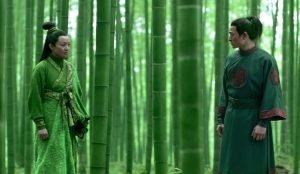 House of Flying Daggers
March 15-17, 2019
Admission is FREE for PSU students & faculty w/ID.
$4 for all other students & seniors.
$5 General Admission
More info: 5thavecinema.com
5th Avenue Cinema
510 SW Hall St., Portland, OR
(503) 725–3551
House of Flying Daggers (35mm)
Dir. Zhang Yimou (2004); Hong Kong/China, 119m
Starring: Andy Lau, Zhang Ziyi, Takeshi Kaneshiro
Mandarin with English subtitles
FRIDAY, March 15th AT 7:00PM & 9:30PM
SATURDAY, March 16th AT 7:00PM & 9:30PM
SUNDAY, March 17th AT 3:00PM
If translated literally from Mandarin to English, the original title Shí Miàn Mái Fú means "ambushed from ten directions", which perfectly embodies the carefully choreographed martial arts that builds tension and dimension throughout House of Flying Daggers. Director Zhang Yimou's storytelling is driven by visual imagery solidified by his early works: Raise the Red Lantern and The Story of Qiu Ju. His utilization of lighting, lush compositions, and obscure angles strengthen the dramatic effects of the film itself. House of Flying Daggers transcends visually, crossing fantastical limitations most directors would likely consider preposterous.
About 5th Avenue Cinema
Oregon's only student run cinema has been operating non-profit since 1989. Our goals are to provide further education for PSU students interested in film, as well as a fun place for people to see something they wouldn't ordinarily get to see on the big screen. The general public is always invited to attend and there is FREE POPCORN at every show. Our feature films are presented on 35mm film, with the occasional screening on our rare Norelco 16mm projector.
Free Admission for Portland State Students