From our sponsors: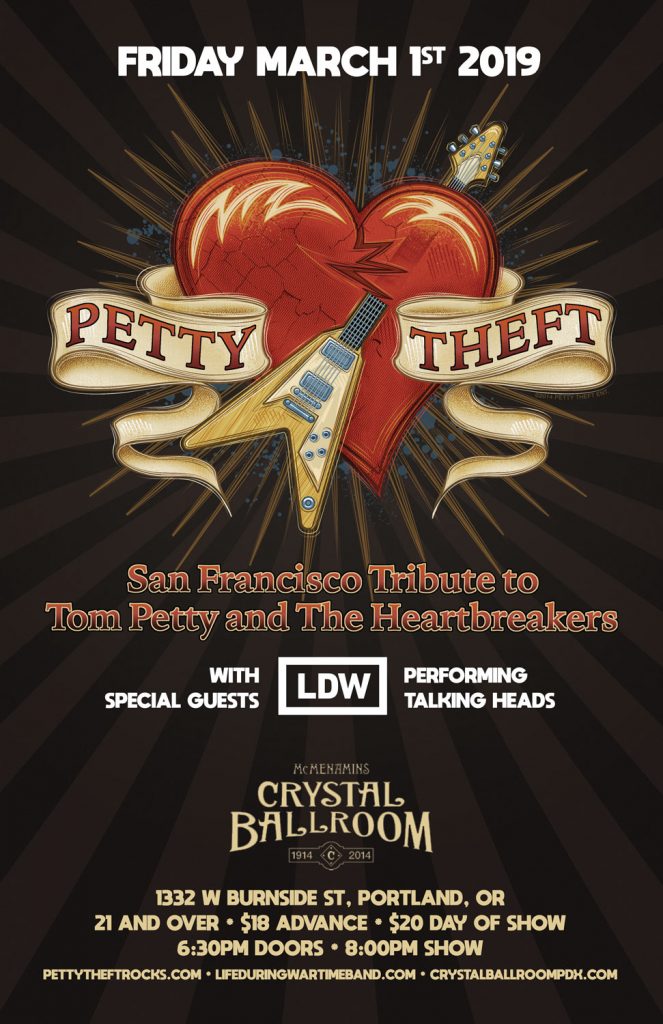 Petty Theft
w/ Life During Wartime – Portland's Talking Heads tribute band
March 1, 2019
21+ | 7:30 p.m. | $18 ADV, $20 Doors
More info: crystalballroompdx.com/
Crystal Ballroom
1332 W Burnside St. Oregon 97209
Petty Theft
At the forefront of classic and contemporary American Rock and Roll you are sure to find Tom Petty and the Heartbreakers. If you're a fan of Tom Petty's amazing song catalog then you're sure to like Petty Theft.
Petty Theft features six professional Bay Area musicians that have come together to pay tribute to Tom Petty and the Heartbreakers. Petty Theft delivers Tom Petty's songs true to the originals and in the spirit of his legendary band's live shows, performing everything from his revered classics to his most current hits.
Since the bands inception in 2003, Petty Theft has been entertaining audiences in clubs, private parties and on large festival stages with their electrifying live show. Audiences everywhere know these classic radio hits and when performed by Petty Theft, it sounds like you are hearing the real deal!
Petty Theft is not an average cover band. They are the ultimate tribute to one of America's most endearing rock n' roll legends… Tom Petty. It's not about costumes and get-ups, it's all about the music.
Petty Theft has built a strong reputation and loyal following as one of the Bay Area's premier tribute bands. In 2011, 2012, and again in 2013 Petty Theft was voted best band in Marin County by readers of the North Bay Bohemian.
Life During Wartime
Portland's Life During Wartime band offers an authentic tribute to Talking Heads. Life During Wartime is a band born out of love, appreciation and enthusiasm for Talking Heads music. In every performance we strive to capture the full essence of The Talking Heads performance styles, especially that of the epic 1984 concert film, Stop Making Sense, which each of us considers to be the most brilliant concert film of all time. Our 5-7 piece band is made up of some of the most energetic, dedicated, fun-loving, pro-players in the Pacific NW who have been crafting their skills as stage performers and musicians for years. We offer our audiences a true Talking Heads experience: exciting visuals, costuming, signature licks and moves, even stage props! Keeping you engaged and dancing from start to finish is our goal! We are currently hitting the stages of Portland's fabulous local clubs and bars, honing our show, working in some really cool choreography, getting ready to take the show on the road. We'd love to have you come out and see us. Make sure to introduce yourself. But wear your dancing shoes, cause you won't be able to help yourself!