From our sponsors: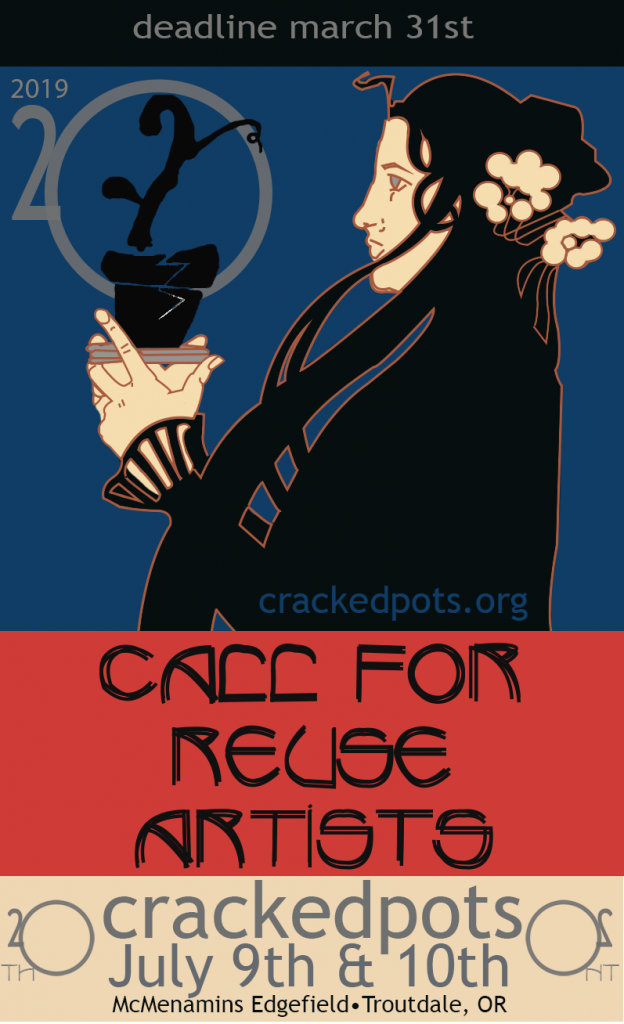 Crackedpots Reuse Art Show
July 9-10, 2019
Deadline to Apply is March 31, 2019
Apply at crackedpots.org
McMenamin's Edgefield
2126 SW Halsey St, Troutdale, OR 97060
Crackedpots 20th anniversary seeking reuse artists & makers for the longest running upcycled arts festival in Cascadia!
Application is free, Submissions are juried!
Requirements:
80% + reclaimed materials
collaborative entries are welcome
3 high resolution photos of your art
metal, wood, glass, paper, textiles, assemblage
Deadline to Apply is March 31st
Crackedpots Reuse Art Show is environmental stewardship through creative reuse. More than 5,000 attendees shop, eat, drink participate in arts and environmental programing for two days.
Not an artist? Sponsorships, volunteer, and vendor opportunities available!
Crackedpots is an environmental arts nonprofit devoted to waste reduction in our community.
Creative reuse .. reclaiming and re-imagining .. is at the heart of all we do. crackedpots.org