From our partners: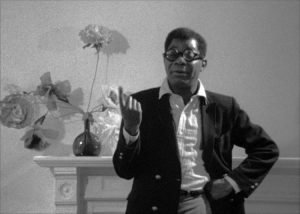 PORTRAIT OF JASON
February 22-24, 2019
Admission is FREE for PSU students & faculty w/ID.
$4 for all other students & seniors.
$5 General Admission
More info: 5thavecinema.com
5th Avenue Cinema
510 SW Hall St., Portland, OR
(503) 725–3551
Portrait of Jason (35mm)
Dir. Shirley Clarke (1967); USA, 105m
Starring: Jason Holliday, Shirley Clarke, Carl Lee
FRIDAY, February 22nd at 7 pm & 9:30pm
SATURDAY, February 23rd at 7 pm & 9:30PM
SUNDAY, february 24th at 3 PM
At 9:00 p.m. on December 3rd, 1966, Shirley Clarke and a crew of filmmakers set up their equipment in a room at the Hotel Chelsea and began a gruelling twelve hour filming session with their cameras trained on one person: Jason Holliday.
With drink in hand, Jason revels in the past humors and traumas of his life as a houseboy and hustler while musing on his dreams of becoming a nightclub performer. In the confrontational documentary style of Cinéma Vérité, the filmmakers bombard Jason with tough questions and revealing close-ups. The ethics of this confrontation come into question, however, as Jason becomes more and more intoxicated by an unending supply of alcohol which sees him increasingly vulnerable as the cameras roll on.
Nevertheless, Jason always musters a smile as he, in turn, supplies an unending string of stories and performances for the camera. In its bare execution, small scope, and clear power dynamics, Portrait of Jason engages complex questions of truth, lies, and subjectivity for a film whose ultimate confrontation is with the documentary form itself.
About 5th Avenue Cinema
Oregon's only student run cinema has been operating non-profit since 1989. Our goals are to provide further education for PSU students interested in film, as well as a fun place for people to see something they wouldn't ordinarily get to see on the big screen. The general public is always invited to attend and there is FREE POPCORN at every show. Our feature films are presented on 35mm film, with the occasional screening on our rare Norelco 16mm projector.
Free Admission for Portland State Students