From our sponsors: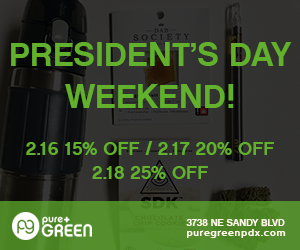 President's Day Weekend Sale
February 16-18, 2019
21+ | 8:30am-10pm
More info: puregreenpdx.com
Pure Green
3738 NE Sandy Blvd., Portland, OR
Happy President's Day! Enjoy your long weekend even more with a little something something from PG! We will have store-wide discounts on all of your favorite products!
2.16 15% OFF
2.17 20% OFF
2.18 25% OFF