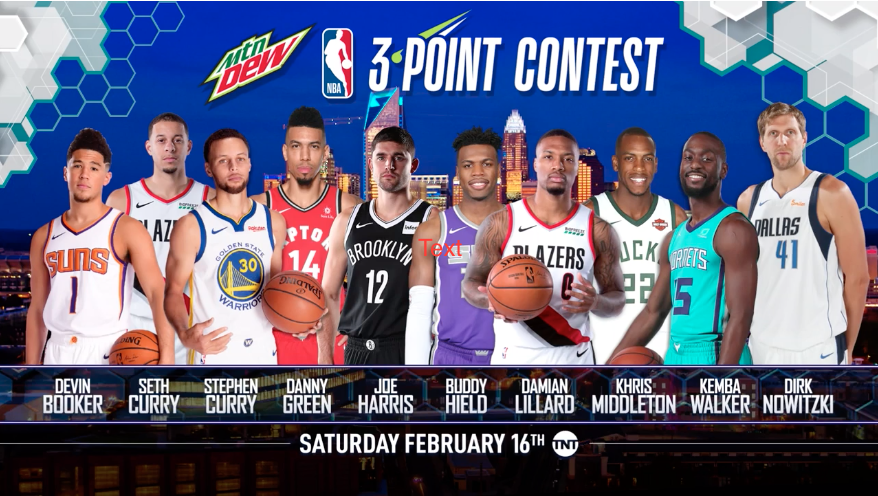 From our sponsors:
2019 MTN Dew 3 Point Contest
February 16, 2019
5 p.m.
Defending champion Devin Booker of the Phoenix Suns and former champions Stephen Curry of the Golden State Warriors and Dirk Nowitzki of the Dallas Mavericks will participate in the 2019 MTN DEW 3-Point Contest on Saturday, Feb. 16 at Spectrum Center in Charlotte, North Carolina.
Expanding to 10 players this year, the MTN DEW 3-Point Contest field includes 2019 NBA All-Stars Damian Lillard of the Portland Trail Blazers, Khris Middleton of the Milwaukee Bucks and Kemba Walker of the Charlotte Hornets as well as Seth Curry of the Portland Trail Blazers, Danny Green of the Toronto Raptors, Joe Harris of the Brooklyn Nets and Buddy Hield of the Sacramento Kings.
Where To Watch 2019 MTN DEW 3-Point Contest: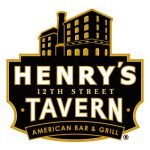 Henry's Tavern (10 NW 12th Ave, Portland, OR) | (503) 227-5320 | More info: henrystavern.com
Located in downtown Portland, in the Pearl district Henry's is your local tavern. If you find yourself looking for a sports bar or ale house to spend time with friends and family. With 100 taps available, we would love to serve you a beer.
Henry's Tavern offers $1 off Hop Valley & Bud Light Drafts during all Blazer games, and don't forget to join us for Happy Hour as well, 3-6p and 9-11p (Monday-Thursdays) and 3-6p and 10-12a (Friday/Saturdays) and All Day Sundays.
———————————————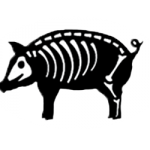 Bare Bones, 2900 SE Belmont St, Portland, OR 97214
More info: barebonespdx.com

Bare Bones is a neighborhood spot on SE Belmont in Portland. They proudly serve custom cocktails, boozy slushies, local coffee and a great bar menu. Happy Hour is available everyday between 4pm and 7pm and all day on Mondays. They have 4 TVs, including one in their game room!
In addition to our regular menu we serve breakfast all day, offer daily specials and homemade soups as well as a full selection of espresso drinks.
———————————————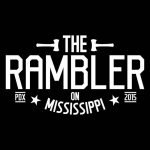 The Rambler (4205 N Mississippi Ave, Portland) | 503-459-4049 | More info: ramblerbar.com
The Rambler is Mississippi Ave's best spot to watch the Blazers this season. With two TVs inside and one on our covered, heated back patio you're sure to find a seat. We're also the only bar on the block with NFL Sunday Ticket. Come down, grab a bite and a drink and root for your favorite sportsball team!
Happy hour from 4-6 Monday through Friday.
Our daily specials include:
Saturday & Sunday – Brunch! Awesome food, no lines, no minors
———————————————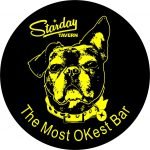 Starday Tavern (6517 SE Foster Rd) | (971) 888-4001 | More info: Facebook
The most OKest bar on Foster!
During Blazer events Starday Taveen will offer the "Trail Blazer" for $6. It's a blended whiskey cocktail with root beer schnapps and cherries.
———————————————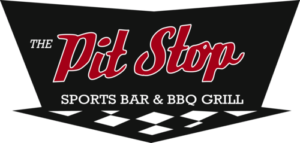 The Pit Stop (10245 SW Canyon Rd Beaverton) (503) 643-4758 | More Info: pitstopbbqgrill.com
Sports fans, you've definitely come to the right place! We have 25 flat screen TV's and we subscribe to most sports viewing packages. Our staff is happy to help you find your favorite game.
The Pit Stop has been designed to offer the very best in casual dining, sports entertainment, Oregon Lottery and Karaoke. We are famous for our slow smoked BBQ meats, which we meticulously prepare using our own dry rubs and brining recipes. Compliment your meal with our House made BBQ Sauces and garlic fries.
Pit Stop Specials: Widmer Pints $4, Any Draft Beer Pint & 4 Taquitos $8 and Crown Royal Cocktails for $5.50.
———————————————

On Deck Sports Bar & Grill Pearl District, 910 NW 14th Ave, Portland, OR, (503) 227-7020 | More info: ondecksportsbar.com
On Deck Sports Bar has all major-sports TV packages. We have 25+ HDTVs for your viewing pleasure along with great food, drinks and staff. It's no surprise we're the destination for those who like to get close to the action! On Deck Sports Bar & Grill has the largest outdoor patio in Portland's Pearl District, which makes us the hottest place to hang out!
Specials: Crown Royal & Crown Royal Flavor Cocktails – $7, Widmer or Hop Valley Pints $5, and Azuñia Tequila shots $6 during all Blazer events.
———————————————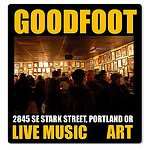 The Goodfoot Lounge (SE 29th & Stark) | (503) 239-9292 |
More info: thegoodfoot.com

We're going to have the Trailblazers game on our large HD projection screen upstairs!
Happy Hour runs from 5 to 9pm with fantastic food & drink specials ($2 off pitchers of craft beer, $1 off infused cocktails and $5 food specials).

———————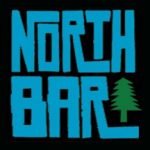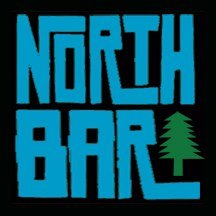 North Bar, 5008 SE Division St. | (503)546-9973 | More Info: northbarpdx.com
Support the Blazers @ North Bar. Enjoy local beers, fresh cocktails made with house infusions or a glass of wine. There's also darts, pool, pinball and outdoor seating for those sunny afternoons.
Happy Hour every day from 3-6 p.m. Enjoy $4 Micros, $3 Wells & $2 Hamm's. Outside food is always welcome.
———————————————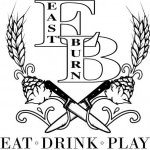 East Burn (East Burnside & 18th)
(503) 236-2876

More info: www.theeastburn.com
Recess discount menu from 3-5PM.
They also have daily food and drink specials.
———————————————-
Here is a closer look at the MTN DEW 3-Point Contest participants:
Devin Booker, Suns
(3rd appearance)
In addition to winning last year's 3-Point Contest with a record 28-point final round, Booker reached the final round of the 2016 event as a rookie.  On Jan. 24, the 22-year-old guard became the fifth-youngest player in NBA history to score 5,000 career points.
Seth Curry, Trail Blazers
(1st appearance)
In his first season with Portland, the younger Curry brother is shooting an NBA-high 48.5 percent from three-point range.  Seth, who attended Charlotte Christian School and finished his college career at Duke, was an NBA G League All-Star in the 2013-14 and 2014-15 seasons.
Stephen Curry, Warriors
(6th appearance)
An NBA All-Star Game starter for the sixth consecutive year, the two-time Kia NBA Most Valuable Player ranks third on the all-time list for three-pointers made (2,344).  With 215 three-pointers this season, he has become the first player in NBA history to make at least 200 threes in seven straight seasons.  Stephen starred at Charlotte Christian School and Davidson College near Charlotte.
Danny Green, Raptors
(1st appearance)
Green, who is shooting 42.0 percent from three-point range this season, shares the record for most three-pointers made without a miss in an NBA Finals game (five).  He played four years at the University of North Carolina and won a national championship in the 2008-09 season.
Joe Harris, Nets
(1st appearance)
A full-time NBA starter for the first time in his five seasons, Harris ranks fourth in the league in three-point field goal percentage (45.3) while averaging a career-high 13.3 points.
Buddy Hield, Kings
(1st appearance)
The Bahamian guard ranks third in the NBA in three-point field percentage (45.9) and fourth in three-pointers made (183) while averaging a career-high 20.4 points in his third season.
Damian Lillard, Trail Blazers
(2nd appearance)
Lillard has made a three-pointer in 60 consecutive regular-season games, the longest active streak in the NBA.  An NBA All-Star for the fourth time, Lillard set a Portland team record with 10 three-pointers against the Orlando Magic on Nov. 28.
Khris Middleton, Bucks
(2nd appearance)
The first-time NBA All-Star is averaging a career-high 2.3 three-pointers made per game.  He is the first player to play in the NBA G League before becoming an NBA All-Star.
Dirk Nowitzki, Mavericks
(6th appearance)
This marks the first 3-Point Contest appearance in 11 years for Nowitzki, who made his event debut in 2000 and was crowned champion in 2006.  He ranks 11th on the NBA's all-time three-pointers made list (1,935).  Playing his record-tying 21st NBA season, Nowitzki was selected by NBA Commissioner Adam Silver to play in the 2019 All-Star Game as a special roster addition.
Kemba Walker, Hornets
(2nd appearance)
Walker has made the fifth-most three-pointers in the NBA this season (165).  The Hornets' franchise leader in points and three-pointers made has been selected to his third All-Star Game in a row and named a starter for the first time.
2019 MTN DEW 3-Point Contest Rules
The MTN DEW 3-Point Contest is a two-round, timed competition.  Five shooting locations are positioned around the three-point arc.  Four racks contain four NBA regulation balls (each worth one point) and one multicolored "money" ball (worth two points).  The fifth rack is a special "all money ball" rack, which each participant can place at any of the five locations.  Every ball on this rack is worth two points.
The players have one minute to shoot as many of the 25 balls as they can.  The three competitors with the highest scores in the first round advance to the championship round.  The player with the highest score in the championship round is the winner.  Click here for a complete explanation of the rules.