From our sponsors: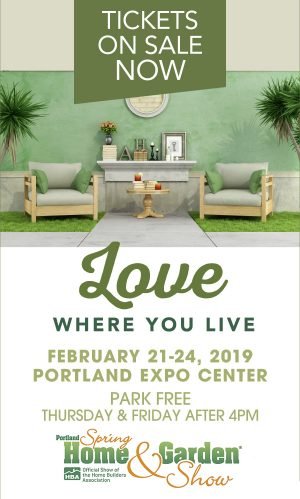 2019 Portland Spring Home & Garden Show
February 21-24, 2019
Thursday – Saturday 10 am to 8 pm
Sunday 10 am to 6 pm
$10 General | All Ages
More info: homeshowpdx.com
Portland Expo Center
2060 N Marine Dr, Portland, OR 97217
The 72nd Portland Spring Home & Garden Show returns to the Portland Expo Center Thursday, February 21 through Sunday, February 24. As Portland's longest-running home show, the Portland Spring Home & Garden Show gives homeowners the opportunity to learn about the latest home and garden products and services from more than 300 local companies. Show-goers can talk with experts about how to make their ideas and dreams come to life. Produced by the Home Builders Association of Metro Portland, the Portland Spring Home & Garden Show is a one-stop shop for all things home and garden.
A cornerstone feature of the Portland Spring Home & Garden Show are the showcase gardens. Visitors can stroll through 25,000 square feet of outdoor living spaces to get inspired for their own home projects. This year's show features 11 showcase gardens built by the following exhibitors: American Rhododendron Society, Cornerstone Hardscapes, Cadwell Landscape, Grasstains, Mainstream Landscape, NW Outdoor Living & Landscapes, Oregon Outdoor Landscaping, Oregon State University, Root Connection, Vertical Gardens – Life is Awesome Here and The Wall. A sculpture walk featuring award-winning local artists Mike Suri and Dave Haslett – new this year – will complement the beautiful gardens.
Whether you are ready to start your next home project or just starting to get inspired, show-goers can also meet with professional remodelers at the Portland Spring Home & Garden Show.
"Nowhere else will you find so many products and services represented by true professionals that provide them under one roof," said show co-chair Brent Olsen of Gary's Vacuflo. "From new products that make maintaining your home more convenient to full remodels of your home or landscape, the Portland Spring Home & Garden Show will have hundreds of vendors to talk with, and products to make your home a more livable environment for your enjoyment."
Visitors can purchase plants, potting supplies and more from nurseries onsite throughout the show. Other show features include the Kids Zone thanks to Portland Parent Magazine and a Demo & Presentations Stage featuring professional remodelers, Oregon State University Master Gardeners and local artists. Check www.HomeShowPDX.com for full schedule.