From our partners: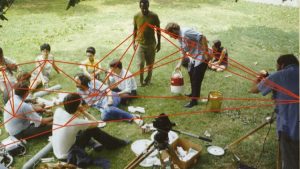 Symbiopsychtaxiplasm
February 8-10, 2019
Admission is FREE for PSU students & faculty w/ID.
$4 for all other students & seniors.
$5 General Admission
More info: 5thavecinema.com
5th Avenue Cinema
510 SW Hall St., Portland, OR
(503) 725–3551
Symbiopsychtaxiplasm (35mm)
Dir. William Greaves (1968); USA, 75m
Starring: Patricia Ree Gilbert, Don Fellows, Bob Rosen
FRIDAY, FEBRUARY 8th AT 7:00PM & 9:30PM
SATURDAY, FEBRUARY 9th AT 7:00PM & 9:30PM
SUNDAY, FEBRUARY 10th AT 3:00PM
Symbiopsychotaxiplasm is visual jazz, created through editing and reconfiguration: finalized as an amalgam of footage from four different sources. The production team of Over The Cliff (the film within the film) directed by William Greaves impersonating himself, a production crew filming them as a behind the scenes-esque pursuit, and a third crew recording them, along with footage shot via a fourth camera operated independently by Greaves. Greaves breaks through blackness as merely a visual experience, driving the film's deterioration of traditional film production techniques culminated as a polyphony of events actively critiquing ideas of authenticity, caricature, and performativity.
About 5th Avenue Cinema
Oregon's only student run cinema has been operating non-profit since 1989. Our goals are to provide further education for PSU students interested in film, as well as a fun place for people to see something they wouldn't ordinarily get to see on the big screen. The general public is always invited to attend and there is FREE POPCORN at every show. Our feature films are presented on 35mm film, with the occasional screening on our rare Norelco 16mm projector.
Free Admission for Portland State Students