From our sponsors: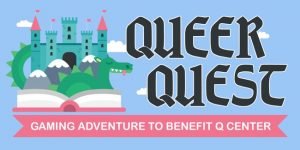 Queer Quest
February 23, 2019
6-10 p.m. | $25 – $125 | 21+
More info: eventbrite.com
Q Center
4115 North Mississippi Avenue, Portland, OR 97217
Join us for a night of exciting Dungeons & Dragons action to benefit Q Center, a resource center and safe space for LGBTQAI+ people in Portland.
We are thrilled to announce Aram Vartian, the creative mind behind the Godsfall podcast and Worldbook as well as the recently Kickstarter funded Rise of the Demigods, will be our special guest and will run a game for 6 very special VIP players.
The Godsfall Adventure will feature a two-hour game DMed by Aram, with characters created by him for you to play. The VIP tickets will also include soon-to-be announced swag and other goodies!
Not sure the Godsfall Adventure is your flagon of ale? No worries! You can enjoy gaming, beer, wine, snacks, and general merriment with the Roll With It Adventure. Choose from one of three tables for some one-shot Dungeons & Dragons fun, or enjoy some more casual gaming at the tabletop game table!
All this fun and excitement to benefit Q Center!