From our partners: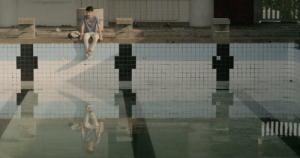 The Blue Hour
January 25-27, 2019
Admission is FREE for PSU students & faculty w/ID.
$4 for all other students & seniors.
$5 General Admission
More info: 5thavecinema.com
5th Avenue Cinema
510 SW Hall St., Portland, OR
(503) 725–3551
The Blue Hour (DCP)
Dir. Anucha Boonyawatana (2015); Thailand, 97m
Starring: Oabnithi Wiwattanawarang, Atthaphan Poonsawas, Duangjai Hirunsri
Thai with English subtitles
FRIDAY, January 25th at 7:00pm & 9:30PM
SATURDAY, January 26th at 7:00pm & 9:30PM
SUNDAY, January 27th at 3:00pm
Far from any traditional film genre, the directorial debut of Anucha Boonyawatana- The Blue Hour weds the intricacies of queer sexuality with spirits of the undead. Set in Northern rural Thailand, two boys (Tam and Phum) find each other through the internet and decide to meet in search of a mutual tryst. Tam and Phum find their own asylum in places that most people would not think of as romantic, like an abandoned haunted swimming pool or a rotting landfill. As their rendezvous continues, manifestations of homophobia come alive through things one would see in a nightmare. Paranoia and discomfort "personified" through unexplained spectral events, The Blue Hour is an accomplished mood piece that leaves you questioning what is real and what is not.
About 5th Avenue Cinema
Oregon's only student run cinema has been operating non-profit since 1989. Our goals are to provide further education for PSU students interested in film, as well as a fun place for people to see something they wouldn't ordinarily get to see on the big screen. The general public is always invited to attend and there is FREE POPCORN at every show. Our feature films are presented on 35mm film, with the occasional screening on our rare Norelco 16mm projector.
Free Admission for Portland State Students