From our sponsors: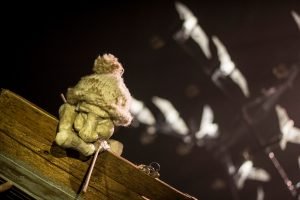 Boom Arts Presents Pescador/Fisherman by Silencio Blanco (Chile)
February 2-3, 8-9, 2019
All Ages (recommended for Ages 8+)
$25 General, Students $15, Under 18 $8
February 2-3 & 8-9, 2019
February 2nd & 8th: 7pm
February 3rd & 9th: 3pm
More info: boomarts.org
Imago Theatre
17 SE 8th Ave, Portland
Contemporary Chilean puppetry ensemble Silencio Blanco returns to Portland with four performances of Pescador (Fisherman), February 2-9, 2019 at Imago Theatre.
In this hour-long puppetry fable, a lone pescador (fisherman) encounters the immensity of nature in pursuit of a trade that's been nearly forgotten in the age of industrial fishery. Silencio Blanco's visually arresting trademark style features simple, yet highly expressive, papier-mâché puppet figures co-existing onstage with silent actor-puppeteers accompanied by a musical soundscape, highlighting the beauty of simple, everyday things. Recommended for ages 8 and up, Pescador is presented as part of Boom Arts' multi-generational 2018-2019 Festive Revolutions season.
"By far one of the best pieces of art I've ever seen." – Portland audience member on Boom Arts' Spring 2017 presentation of Silencio Blanco's Chiflón el Silencio del Carbón