From our sponsors: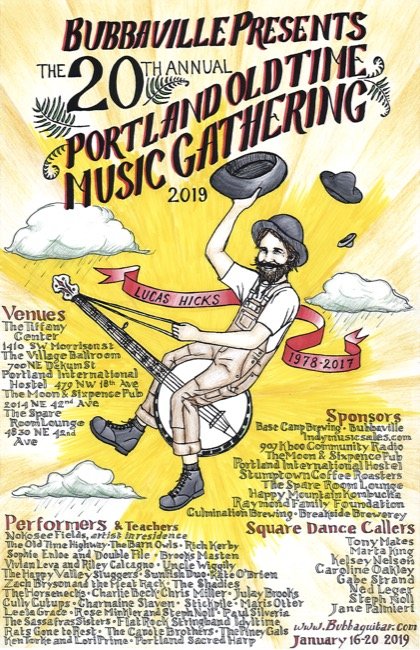 Portland Old Time Music Gathering
January 16-20, 2019
All Ages
More info: guitarist.com/gathering
The city of Portland has certainly seen lots of change over the last two decades. But while the skyline has shifted, rents have risen and e-scooters have invaded, at least one thing has been constant: the Portland Old Time Music Gathering, which has attracted musicians, square dance enthusiasts and other lovers of acoustic roots music to PDX each January since the year 1999.
The 20th annual Portland Old Time Music Gathering is set for Jan. 16-20, 2019, and it will once again serve as a hub for the West Coast old time music scene as well as an entrypoint for locals interested in learning more about this uniquely American genre of music and dance.
Old time music generally centers around traditional Appalachian fiddle tunes that provide the musical drive underpinning square dancing. Old time bands typically include fiddles, banjos, guitars, basses, mandolins and other acoustic instruments. The music, which was a precursor to bluegrass, is well-suited to jamming and tune swapping — and that element is a big part of the Gathering, which started in Portland 20 years ago as a house party and has since grown into an annual festival backed by local nonprofit group Bubbaville.
The Gathering brings together old time aficionados of all ages for jam sessions, workshops, concerts, square dances and family-friendly elements, such as an "instrument petting zoo" in which kids can play around with donated guitars, banjos and other sound objects.
As always, the list of Gathering events includes a range of opportunities sure to excite any fan of traditional American music. Square dances feature some of the most experienced and energetic old time bands in the Pacific Northwest. Workshops offer instruction on individual instruments, as well as vocal technique. Concerts highlight the skill and soul of top players from around the country.
This year, the Gathering's artist-in-residence will be Nokosee Fields, a talented multi-instrumentalist who was born and raised in Oklahoma. He will be playing in the Friday night concert on the evening of Jan. 18 and teaching a fiddle workshop on Saturday, Jan. 19. Both of those events take place at the Tiffany Center, 1410 SW Morrison St.
For the complete list of 2019 Portland Old Time Gathering events, ticket information, and volunteer opportunities, go to bubbaguitar.com/gathering.