From our sponsors: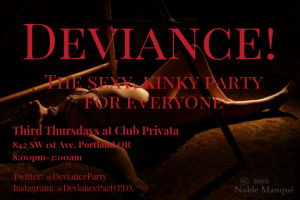 Deviance
January 17, 2019
8 p.m. | $20 | 21+
More info: clubprivata.com
Club Privata
824 SW 1st, Portland
Come on out and share an evening of kink, sex, friends and music at one of Portland's most sexually kinky fetish nights!
What is it? Deviance is a party where everyone is welcome. We encourage people from the kinky, poly, swinger, queer, trans, and fetish communities to come play with us. Deviance is a place where you can let your hair down and let your kinks and fetishes out!
The space features two full bars, three floors with open areas for socializing, a semi-private, well equipped dungeon for BDSM play, a large group play bed with overhead bondage points, an 18ft rope suspension point over the dance floor, a private couples only lounge area for couples and their partners, as well as plenty of completely private or open spaces for your sexual and kinky explorations.
We like it when you watch. Voyeurism is welcome and encouraged! With both open and semi-private play spaces, there are plenty of chances to get a sexy eye full.
Comfort and safety matter. We provide clean sheets, safer sex supplies, and cleaning supplies for toys and equipment. Not only that, but there are club staff and party volunteers making sure everyone has their questions answered and feels comfortable. There's a strict no-phones policy to protect your privacy.
Dress code: Fetish attire encouraged, no work clothes, no hoodies, no stocking caps, no ballcaps, no sandals & no shorts for men unless specifically part of a fetish outfit.