We are giving away a pair of tickets to Oregon Zoo Pub Talk: Polar Bears and Penguins on January 17 . To win, comment on this post why you'd like to attend. Winner will be drawn and emailed Friday, January 11 .
———————————————
From our sponsors: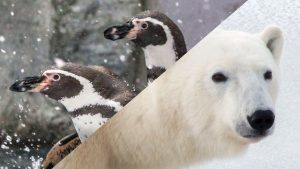 Oregon Zoo Pub Talk: Polar Bears and Penguins
January 17, 2019
Doors 6 p.m., Talk Starts at 7 p.m. | $15 | 21+
Tickets: etickets.oregonzoo.org
More info: oregonzoo.org/talks
Oregon Zoo
4001 SW Canyon Road, Portland, Oregon 97221
Have drinks with your friends while learning about the similar challenges facing both penguins and polar bears
Presented by Pro Photo Supply, Oregon Zoo Pub Talks connect you with conservation experts. Each month conservation, animal care or wildlife science professionals share their knowledge and experience saving animals across the planet, from the forests of Borneo to the skies of the Pacific Northwest.
At this event, Oregon Zoo director Dr. Don Moore and Amy Cutting, who oversees the zoo's marine life area, will discuss the similar challenges affecting polar bears and penguins.
A recent study published in Marine Mammal Science—based on data collected at the Oregon Zoo—measures the "energetic costs of aquatic locomotion in a subadult polar bear," and the findings could have serious implications for wild bears as climate change transforms their habitat. Scientists at the zoo discovered that the young polar bear Nora burned more calories while swimming than other marine and semi-aquatic mammals.
While polar bears and penguins live in different hemispheres, both species face difficult futures because of human activity. Polar bears and their sea ice habitats in the Arctic are threatened by climate change, forcing them into new regions where they have to work harder for food. Penguins, along with their habitats on Antarctica and its neighboring continents, are also vulnerable due to climate change, oil spills, pesticides, construction and destruction of habitat; they're also preyed upon and competing with other species for food.
Learn what the Oregon Zoo is doing to enhance our knowledge and protect these important species. Find out what actions humans can take to protect penguins and polar bears while having drinks and snacks with your friends.
Doors open at 6 p.m. and the talk begins at 7 p.m., followed by a Q&A.
GET TICKETS Tickets are $15.
The event is located at the Oregon Zoo Cascade Grill. Food and beverages will be available for purchase.
Oregon Zoo Pub Talks are fun, educational events that help support the zoo's mission of creating a better future for wildlife through its animal welfare, education and conservation programs. Pub Talks are made possible by the Oregon Zoo Foundation's Education Endowment, which is generously funded by Oregon Zoo members and donors. Click here to learn how you can support the zoo. Find out about the other talks by visiting oregonzoo.org/talks.
The Oregon Zoo encourages all guests to take public transport to the zoo, which is located five minutes from downtown Portland, and is accessible by MAX Light Rail line. Visit Explore Washington Park for transportation and parking information.