From our sponsors: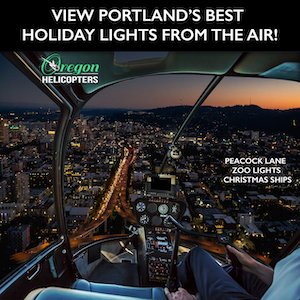 Oregon Helicopters Special Holiday Tours!
November 30-December 31, 2018
More info: oregonhelicopters.com
Christmas Lights Helicopter Tour
November 30-December 31, 2018
$159 each
This is an "Only-in-Portland" opportunity showing off the city in the holiday season!
A special Christmas twist on our popular "City Lights Tours". This tour is longer than than the City Lights tour and designed to see Portland's best Christmas lights displays from above!
Tour departs from the Downtown Portland Heliport at 1st and Davis just off Waterfront Park. Take pictures on the helipad then climb in the warm helicopter to check out the city's best Christmas light displays.
The Christmas Ships*
Peacock Lane*
Zoo Lights*
Winter Wonderland*
You fly past them all* on this absolutely unique night time tour. Plus of course you'll see the amazing light displays of Portland itself in all its winter splendor.
Each tour will be 25 miles and allow time and flexibility to visit Portland's best Christmas light displays*. The heated helicopter will provide a cozy space to take in the surreal lighted world below you. This is guaranteed to be an experience that your friends and loved ones will absolutely be thrilled about.
Make it your special Christmas tradition today!
*Note that each Christmas lights display has its own hours and dates of operation. Our Christmas Lights Flights will vary in routing depending on the specific light displays going on at the date and time of your flight. Flights available through December 31st.
More info on Christmas Lights Tour: oregonhelicopters.com
————-
Fly with Santa
November 30-December 31, 2018
From $49 per child
Ho! Ho! Ho! Who wouldn't go?
Up on the rooftops – quick, quick, quick –
Fly in a heli with Ol' Saint Nick!
Fly with Santa in his helicopter this holiday season! A Portland original experience. Take your kids for the Santa event of a lifetime or go with a friend for a really fun Christmastime jaunt over Portland.
Their will of course be time for photos with Santa and the pictures are AMAZING!
In true magical sleigh fashion, you'll fly off the Downtown Rooftop Heliport & view the city from the sky! Santa knows when to fly… day and night views of the city and surroundings are stunning this time of year. You'll enjoy crisp, clear air for great visibility and a gorgeous, lush landscape.
This is a new Portland tradition, not available anywhere else in America and you'll have a blast.
These are perfect flights for kids and adults to see rivers, skyscrapers, bridges, boats, cars, the OHSU tram and more exciting things than they can count out of the windows of the helicopter with Santa as their guide.
To fly with Santa, go here and choose the tour length, and specify your preferred date and time.
Santa will be flying locals and visitors alike on his routes in the skies above Portland from Nov. 30th through Dec. 31st!
More info on Fly w/ Santa: oregonhelicopters.com