From our sponsors: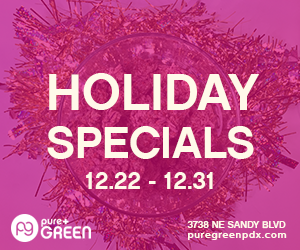 Pure Green December Specials
December 22-24, 26, 30-31, 2018
More info: puregreenpdx.com
Pure Green
3738 NE Sandy Blvd., Portland, OR
Our December specials have arrived! We look forward to making your holidays extra special this year!
12/22
Max Your Stash- 30% off any ounce of flower
12/23
20% off the store
12/24
25% off the store
12/26
25% off the store
Swag bags for the first 50 customers!!!
12/30
20% off store
12/31
Happy New Year!
25% off store