We are giving away a pair of tickets to DJs Anjali & The Incredible Kid's 2019 New Year's Eve Dance Party on December 31. To win, comment on this post why you'd like to attend. Winner will be drawn and emailed Friday, December 28.
———————————————
From our sponsors: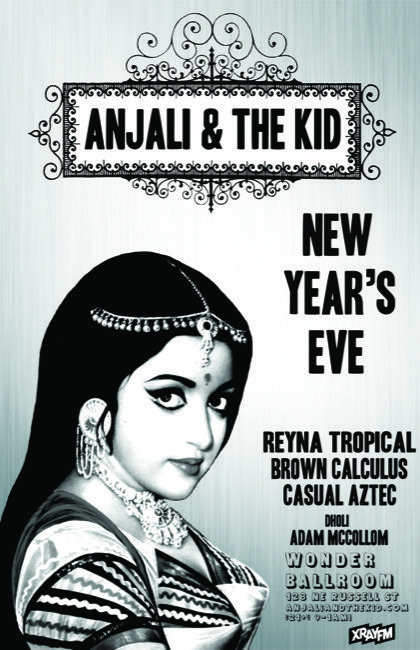 DJs Anjali & The Incredible Kid's New Year's Eve Dance Party Extravaganza
December 31, 2018
Doors 8 p.m., Show 9 p.m. | $29.50 advance $40 at the door | 21+
More info: ticketfly.com
Wonder Ballroom
128 NE Russell St, Portland, OR 97212
DJ Anjali & The Incredible Kid's New Year's Eve Dance Party Extravaganza at the Wonder Ballroom featuring the Portland debut of Reyna Tropical (Fabi Reyna of She Shreds magazine and Savíla, and L.A. producer Sumohair), Brown Calculus, DJ Casual Aztec (Club Culo/No Control Crew), and musician Adam McCollom on the dhol (Double-headed Panjabi drum.
There will also be dance performances from DJ Anjali and her Gulabi Gang troupe.
This party marks the 18th anniversary of Anjali and The Kid playing in Portland clubs as a duo since their New Year's Eve debut in 2000.
Anjali and The Kid won "Best DJ" in Portland in the 2017 and 2016 Willamette Week Reader's Poll.
REYNA TROPICAL
https://reynatropical.bandcamp.com
https://soundcloud.com/reynatropical
"By pairing bright guitar riffs and meticulously layered samples with lulling lyricism, Reyna and Diaz meld the best of both worlds to create a tropical sound as complex and expansive as their shared experiences of bicultural Latinidad." – NPR
Featured on NPR:
https://www.npr.org/sections/altlatino/2018/01/22/578339043/songs-we-love-reyna-tropical-ni-a
Mexican Expats based in L.A and Portland, OR, "Reyna Tropical" is Fabi Reyna (She Shreds Magazine/Savíla) and Sumohair. They met for the first time in Nashville Tennesse on behalf of Redbull Music Academy's Bass Camp at Bonnaroo. They got into the studio the same day they met, recorded a track that would later inspire "Reyna Tropical". In the nature of experimentation they record each track in one session of improvisation.
Video:https://soundcloud.com/reynatropical https://www.youtube.com/watch?v=O_MpdU44SBI
BROWN CALCULUS
https://browncalculus.bandcamp.com/
https://www.facebook.com/BrownCalculusMusic/
https://www.instagram.com/browncalculus/
Sharing the same body in their past lives, Brown Calculus perform with melanated synergy. Keyboardist and beat maker, Andre Burgos, and singer/songwriter, Vaughn Kimmons, are Geminis, illuminating the sacredness of Black music, seeking to bring about community on Earth and beyond. They explore the soundscapes of the post-soul movement. Revealing the connection between complicated time signatures and Black divinity, with a cosmic sound that remains grounded.
https://www.wweek.com/music/2018/03/13/the-spacey-soul-of-brown-calculus-should-be-sold-in-health-and-wellness-stores/
CASUAL AZTEC
https://soundcloud.com/CASUALAZTEC
https://www.nocontrolx.com/
Casual Aztec is an artist and DJ based in Portland and founder of 'Club Culo', a JOTX event and curatorial project focusing on international club, neo perreo, trap, dembow, dancehall, reggaeton, and latin house. She has been featured in Vice Magazine, Tom Tom Magazine, and Discogs. She a member of 'No Control', a crew of westcoast based women and non binary DJs, producers and promotors.
Seattle based musician Adam McCollom started playing the dhol while living in India in 2003. He's been the resident dholi at ANDAZ for over a year, hitting the road with Anjali & The Kid to play festivals, concerts-in-the-park & shaadis. His list of former bands is impressive: (Degenerate Art Ensemble (guitar/composer), The Vells (bass), The Pica Beats (keyboards/ piano), Breaks & Swells (bass), Brent Arnold and The Spheres (keyboards/piano), Ghosts Ive met (bass), Ota Prota (guitar/composer), Motherland Ensemble (oud). Since his graduation from Cornish (BFA in Music) where studied Jazz with Julian Priester (of Sun Ra Arkestra) and Hadley Caliman, he has studied Khayal (North Indian classical singing) with Pandit Devashish Dey in Varanasi for a full year as well as the Egyptian Oud & the Arabic Maqam system with Egyptian ethnomusicologist Maurice Roman.
DJ ANJALI AND THE INCREDIBLE KID
DJ Anjali and The Incredible Kid have spent more than fifteen years igniting dance floors with cutting edge music not limited by borders or language. They host the longest-running Bhangra and Bollywood party in the world (Andaz est. 2002), co-founded the Pacific Northwest's first Global Bass dance party (Atlas 2003-2013) and host two weekly radio shows (CHOR BAZAAR on XRAY.FM and Kabhi Khushi Kabhie Kush on KBOO.FM.)
Few DJs can be said to have changed the sound of their city but that is exactly what DJ Anjali and The Incredible Kid have accomplished since they first introduced Portland, Oregon nightclub audiences to the many varied sounds of Global Bass at a raucous New Year's Eve debut in 2000. They are most known for incinerating dance floors with the heavy dance floor artillery of South Asia, but the duo scour the globe for any hard-hitting music that combines local music traditions with window-rattling production.
In addition to their own club nights, Anjali and The Kid regularly perform at festivals including five sets at the Sasquatch! Music Festival (2011), Decibel, MusicfestNW, Vancouver International Bhangra Celebration, Beloved, Matatu (Oakland), Photosynthesis, Soul'd Out, Portland International Film Festival, Indian Summer Festival, Kaleidoscope and the Vancouver Queer Film Festival. They have guested at the legendary Basement Bhangra (NYC) numerous times as well as Non Stop Bhangra (SF), iBomba (NYC) and Bhangrateque (Chicago.)
After making a name for themselves in their hometown's raucous house party circuit, DJ Anjali & The Incredible Kid introduced the Portland, Oregon nightclub scene to the sounds of Bhangra, Bollywood and Global Bass on New Year's Eve 2000. A series of residencies followed, beginning with a night at the legendary Blackbird, and the duo began hosting their ANDAZ dance parties in July of 2002. The party's focus on hardcore Panjabi Bhangra and the latest electronic confections from the Bollywood film industry continue to pack the dance floor after 16 years. While ANDAZ was still in the bloom of youth, Anjali and The Kid founded the revolutionary dance night ATLAS (with co-host/DJ E3) at Holocene in November of 2003 to introduce Portland to Global Bass sounds such as: Balkan Beats, Reggaeton, Funk Carioca, 3Ball Guarachero, Digital Cumbia, Urban Desi, French and Arabic Hip-Hop, Rai N B, Reggada, Dembow, Dubstep, Kuduro, Merengue Urbano and a host of other local and diasporic future musics. ATLAS was a vital party in Portland nightlife and the Global Bass scene internationally for more than nine years. In 2013 Anjali and The Kid initiated TROPITAAL: A Desi Latino Soundclash, their latest project.
They have supported artists as diverse as A Tribe Called Red, Bomba Estéreo, Tigerstyle, Balkan Beat Box, Major Lazer, Skrillex, Flying Lotus, Saini Surinder, Digable Planets, Delhi 2 Dublin, Sleigh Bells, Glitch Mob, Dengue Fever, Blockhead, Uproot Andy, Hindi Zahra, Toy Selectah, Quantic, Opiuo, Bonobo, Gold Panda, Maga Bo, Poirier, Plastician, Kultur Shock, Ghostland Observatory, State of Bengal, Karsh Kale, DJ Rekha, DJ Spooky, CeU, Antibalas, Nickodemus & Joro-Boro.
"After 18 years as a duo, DJ Anjali & the Incredible Kid are a Portland institution. It's difficult to think of a local dance night with a more lovingly crafted mix of Bollywood, urban desi and Indian dance pop." -Willamette Week 9/19/18
"the legendary DJ Anjali" -Portland Mercury 1/24/18
"One of Portland's most revered record-spinning duos" -The Portland Mercury 12/31/17
"The West Coast's king and queen of bhangra/global bass/Bollywood dance parties, DJ Anjali and the Incredible Kid." -The Portland Mercury 8/17/16
"For more than 15 years, DJ Anjali and the Incredible Kid have been an inimitable force in the Portland dance scene." -The Portland Mercury 6/22/16
"Anjali and The Incredible Kid, Portland's resident top Bollywood and bhangra deejays." -The Portland Tribune 3/12/15
"DJ Anjali & the Incredible Kid have been Portland's leading world music DJs since the turn of the millennium." -Willamette Week 12/31/14
"Portland's finest purveyors of Bollywood, bhangra and global bass music." -Vortex Music Magazine 10/12/14
"Known for bringing cutting-edge music to virgin ears, they are guaranteed to throw you a good time" -Eleven PDX Magazine December 2013
"Maybe the Portland area's most well-known deejays." -The Portland Tribune 1/26/12
"People were talking about all weekend: DJ Anjali & The Incredible Kid–playing every, SINGLE day (the only performers to do so), the Portland duo was the must-not-miss Bollywood/bhangra dance party makers of the weekend." (Sasquatch! Festival 2011) -Oregon Music News 5/31/11
"Celebrate our local heroes as they hold down the biggest rock fest in the Northwest" (Sasquatch! Festival 2011) -The Portland Mercury 5/26/11
"DJ Anjali and the Incredible Kid sets are one of Portland's great recurring dance parties." -Willamette Week 12/16/09
"Portland's favorite boy/girl DJ pair" -The Oregonian 6/19/09
"The pair have been keeping Portland dancing for so long in various incarnations, imagining the local music scene without their bhangra and Bollywood rhythms is unthinkable. " -The Oregonian 5/26/06
"The DJs responsible for making "bhangra" and "Asian garage" somewhat household words outside Portland's Desi community" –The Portland Mercury 1/8/04