From our sponsors: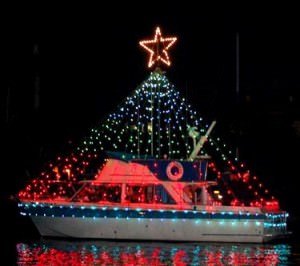 Christmas Ships Cruises
December 5-7, 12-15, 18-20, 2018
Starting from $40/person | All Ages
More info: portlandspirit.com
Caruthers Landing
110 SE Caruthers, Portland, Oregon 97214
2018 marks the 65th year for the Christmas Ship Parade on the Columbia and Willamette Rivers in Portland, Oregon. The Christmas Ship Fleet cruises between both rivers offering the Portland area thrilling Christmas time parades. The Portland tradition that started with one decorated boat it a volunteer organization. The privately owned vessels come from Portland, Vancouver, McMinnville, Salem and Hood River areas. Some of the ships owners have been part of Christmas tradition for more than 30 years with many being part of the fleets for over 20 years. Join Portland Spirit to make this your holiday tradition!
Explorer "Sleigh Rides on the Water"
Be a part of the parade! This hour and a half cruise complete with hot chocolate, cookies and plenty of blankets for all, will take you up close to Portland's Christmas Ship parade.
December 5th-7th, 12th-16th, 18th-20th
7pm-8:30pm
December 15th: 4:30pm-6:00pm
December 16th: 5:00pm-6:30pm
Starting from $40/person
Starting from $36/person for groups of 15 or more passengers
Dinner Cruise
Join us for a Willamette River cruise for front row seats to see the Christmas Ships a two and a half hour cruise, three course plated meal, live entertainment and fully enclosed and climate controlled decks.
December 5th-7th, 12th-14th, 18th-20th
Cruises 7pm-9:30pm
Starting from $74 adults, $69 children
We make every effort to provide a good view of the Christmas Ship Fleet. Parade viewing can not be guaranteed due to potential river activity and conditions.