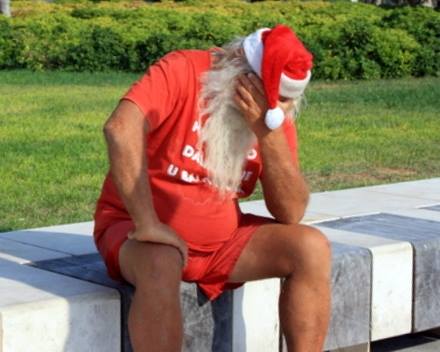 Dig out your Santa suit from the bottom of the closet where it's been since you last wore it last year – It's time for the Original Portland Santacon! This massive red & white pub crawl usually starts downtown, but be sure to check their website for an official meetup location.
———————————————
Related Portland Events & Giveaways
———————————————
From website:
Portland Santacon 2018
December 8, 2018
Noon – 10 p.m.
See Meet Up Location shared at Facebook
Gather 'round, Santa!
The Portland Cacophony Society is hosting yet another Santacon! We believe that it is the 34th anniversary of the event, but could be mistaken.
You should know the drill for this one by now. We're going to meet up at a transit-accessible location in Portland and go out and have a little fun. There will be bars, [REDACTED], Reindeer Games, [REDACTED], [REDACTED], and probably a wander through a neighborhood or business that won't be expecting us.
AS ALWAYS:
Bring plenty of cash and tip your servers. Dozens of Santas all trying to pay with cards sucks.
OBEY THE FOUR FUCKS
1. DON'T FUCK WITH CHILDREN
2. DON'T FUCK WITH POLICE
3. DON'T FUCK WITH SECURITY GUARDS
4. DON'T FUCK WITH SANTA (It's okay to fuck Santa)
FAILURE TO OBTAIN CONSENT VIOLATES THE FOURTH FUCK.
Specifically, failure to obtain affirmative consent (ask first and wait for an answer) before hugging, fucking, touching, or otherwise creeping on Santa is rape, sexual assault, and/or sexual harassment. It will not be tolerated. Please report this behavior to anybody who seems to be in charge. Violators, we will deal with you quickly, appropriately, and without due process.
Seriously, don't fuck with Santa.