This show has been cancelled. It could possibly be reschedule, follow upates at aladdin-theater.com.
From our sponsors: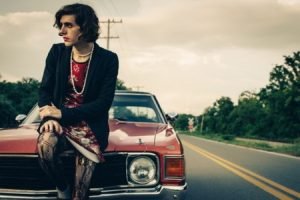 Ezra Furman
December 11, 2018
Doors 7 p.m., Show 8 p.m. | $14-$16 | All Ages
More info: aladdin-theater.com
Aladdin Theater
3017 SE Milwaukie Ave., Portland, Oregon 97202
Transangelic Exodus is a new landmark for the American singer-songwriter: "Not a concept record, but almost a novel, or a cluster of stories on a theme, a combination of fiction and a half-true memoir," according to its author. "A personal companion for a paranoid road trip. A queer outlaw saga."
The music is as much of an intense, dramatic event, full of brilliant hooks, with an equally evolved approach to recorded sound to match Furman's narrative vision. In honour of this shift, his backing band has been newly christened: The Boy-Friends are dead, long live The Visions. In other words, the man who embodies the title of his last album 'Perpetual Motion People' is still on the move… Or, in the vernacular of the new album, on the run.
"The narrative thread," Furman declares, "is I'm in love with an angel, and a government is after us, and we have to leave home because angels are illegal, as is harbouring angels. The term 'transangelic' refers to the fact people become angels because they grow wings. The have an operation, and they're transformed. And it causes panic because some people think it's contagious, or it should just be outlawed."
"The album still works without the back story, though," he vouches. "What's essential is the mood – paranoid, authoritarian, the way certain people are stigmatised. It's a theme in American life right now, and other so-called democracies."
Michael Rault
Canadian singer-songwriter Michael Rault is pleased to announce his new album and Wick Records debut (a Daptone Records subsidiary), It's A New Day Tonight, out May 18th. The new album has its home in the darkness, many of its songs looking at nocturnal activities, particularly sleep. "Sleeping and dreaming were attractive concepts," says Rault. "I was looking for an escape from a lot of frustrating and dissatisfying conditions in my day-to-day life." The Edmonton-born, Montreal-based singer-songwriter-producer began working on its songs in earnest after winding down the tour supporting his 2015 full-length Living Daylight, but getting to the point of having an album was a process.